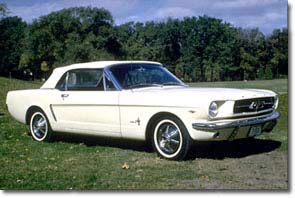 I've always loved Ford Mustangs – specifically '65 Mustang convertibles.
"My Mustang" is candy apple red with white interior. It has a white soft top, white wall tires, sparkling chrome and a great stereo.
To be honest, I haven't thought about Mustangs in a while, but this clip made me fall in love with them all over again:
Ford Mustang Commercial (it's about 5 minutes and worth every second)
I have a number of opinions about the Big Three automakers these days, but that clip made me forget about all that stuff and just love Mustangs again.
There's a lesson there…