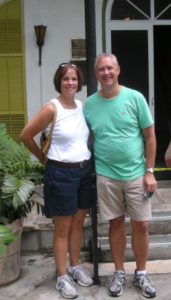 Ernest Hemingway was a brilliantly talented and very interesting man.  While I am in no way an expert on him or his life, when in Key West a week ago, I toured his home there.  In fact, here is a picture of Lori and I standing in front of the house.
Whether before reading on, or after, if you want to learn more about Hemingway's life, you can start here.
From what I do know about him, this quotation seems aligned with his philosophy, and I share it for your consideration.
Worry a little bit every day and in a lifetime you will lose a couple of years. If something is wrong, fix it if you can. But train yourself not to worry: Worry never fixes anything.
– Ernest Hemingway
Questions to Ponder
How much do I worry?
What do I worry about?
How much does my worry fix?
Action Steps
1.  Discipline yourself to make note of each time you are worrying and what you are worrying about.
2.  Keep this list in a journal, on a piece of paper, or in a computer file.
3. After one week, review the list and ask question three above again.  "How much does my worry fix?"
My Thoughts
Most people have a complex set of thoughts and emotions about worry.  Some think if you don't worry about things, you don't care.  Some feel worry is their way to show concern.  While caring about outcomes and being concerned about people and their situations are important and valuable, the question Hemingway's quotation begs, that I have asked twice is, how much does your worry fix?
I'm guessing your answer will be similar to Hemingway's – not much.
And, like Hemingway, I suggest that rather than worrying about things – even important things – that in stead focus on what actions you might take could influence the outcome or situation you are worried about.
Taking action will make a difference.  Worry won't.
Which will you choose?