In Tim Sanders' great new book, Today We are Rich, he writes this important question:
"What are you not doing today that you were doing when I first met you?"
Question to Ponder
What have I stopped doing lately?
What activity am I doing regularly that isn't moving me closer towards my goals?
Action Steps
Reflect on your answers to the questions to ponder.
Rather than trying to do one more thing today, S T O P doing something.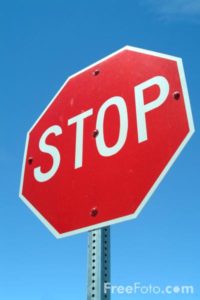 ……
The more "normal" question ask people is "what have you been up to lately?"  or "what's new?"  While there is nothing wrong with those questions, Tim suggests something powerful – perhaps more powerful because it is different. Not what are you doing, but what aren't you doing?
As we try to achieve more, accomplish more and do more, we are often trying to do more.   Tim's challenge is one worth considering.  What have you stopped doing lately?
This is a great personal exercise AND this can be done by a team or organization as well.   What processes, reports, or products can be discontinued or stopped?  What are we doing because we've always done it, but if we were starting today we wouldn't do?
Asking these questions and with your team identifying answers, can be a rewarding, productive, and highly engaging activity.
STOP.
And think about what you need to stop doing.