By Ted Prodromou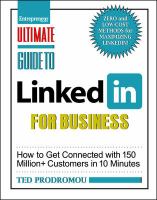 Social media seems to be almost everywhere.  Just yesterday Facebook announced they have a billion members.  By comparison you might think LinkedIn is a small site. It does have over 150 million members however.
Let me say that again . . . 150 million members.
Depending on your background and work you may think of LinkedIn in different ways.  You may think of it as just another social media site, you may think it is general networking, you may think it is for sales or for getting a job.
If were you thinking any of those things, you would be right; if you were thinking all of them (and more), you would be more right!
This book is the most practical book I have read to begin to get more out of your time spent on LinkedIn, however you use it.
I read it as a business owner, thinking about how I could leverage it better in our business, and it was very helpful for me. While I read most of it on an airplane, the ample graphics and screen shots helped things make sense, and I quickly made changes it suggested.
If you are in a career search, sales or networking in general, there are chapters that help in very specific ways here too.
Perhaps most importantly, the book starts at the beginning.  If you need to know how to get started, this book will help you quickly move far beyond the basics to help this tool become more powerful for your professional and personal needs.
I enjoyed this book, and recommend it highly.  It isn't a work of literary art – it is a toolkit to help you get more value from whatever time you spend on LinkedIn.
(If you want to connect with me on LinkedIn, let me know you read this review when you request a connection.)