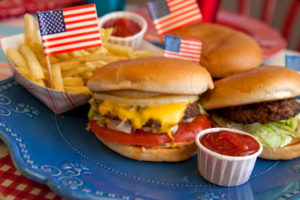 Tomorrow is the Fourth of July, and in the United States that means fireworks, parades, and lots more.  But most of all it seems to mean backyard barbecues – and more food than we need.
In fact, according to the National Retail Federation's 2012 Independence Day survey conducted by BIGinsight, 67.6 percent of Americans will celebrate the 4th of July tomorrow by hosting or attending a cookout, barbecue, or picnic.  That's more than any other time in the history of the survey.
Before you eat (too much) tomorrow consider these ideas.
Since our bodies need food for nourishment, we generally eat.  The eating behaviors of tomorrow won't be about subsistence or even health, it will be about something closer to gluttony.  Our minds need nourishment at least as much as our bodies need food, but most people don't put any time, thought, or effort into that – let alone getting anywhere close to gluttony.
Most, in fact, are starving their minds of the input needed for peak performance.
Lesson:  You should be feeding your mind everyday (I wrote about this just yesterday from a reading perspective).
People will plan for these parties, try new recipes, and shop for just the right accessories (to adorn the plate, table, and body).  Some will spend more time planning for these meals than they will planning for the next week (or month) at work.
Lesson:  Planning is important, and while there is nothing wrong with planning a great party, how about using some of those planning skills planning your week, your career, and your life?
Enjoy your 4th of July party (or whatever party you next attend), and while you are there, think about these two lessons. Let them be a spur for you to do a bit more planning, and to consciously put more good stuff in your mind.
Both of these actions will get you better results.