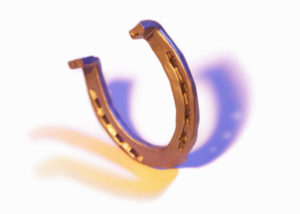 I do agree with this thought, I just don't think it tells the whole story.  To explain myself better, let me suggest some things you could do, which would help you get luckier – at work, at home or in any part of your life.
1. Go to bat more often – you can't always hit home runs.
2. Say "Go for it" more, and "What if it doesn't work?" less – to yourself and those around you.
3. Exalt mistakes!
4. Read a new magazine each month (preferably one you've never heard of.)
5. Pass those magazines on to a friend, colleague, or family member. (Send a particularly interesting article to a Customer?)
6. Get in touch with someone you've lost touch with. (They feel as guilty about it as you do.)
7. Try a new hobby – especially if your spouse or friends think it's weird.
8. Listen to everyone. Ideas can come from anywhere.
9. At work, get rid of as many functional boundaries as possible (yes, even if you're just a "worker" – there are things inside your sphere of influence.)
10. Take the most difficult person in your life to lunch. Try to see the world from their perspective.
11. Kick out the ruts! (Ruts with ends are graves….) Go to work a different way. Try a new breakfast cereal. Listen to a different radio station.
12. Play with a child for four hours. Not "babysit", PLAY! (If you don't have one to play with, it won`t be hard to find one!)
13. Lucky 13. Take off your shoes.
14. Get out of your office.
15. Spend a workday each week at home, in the library, at a Customer's, anywhere but at your desk.
16. Celebrate learning! Keep a monthly log of what you learn each day.
17. Say thank you more often.
18. Ask for more feedback on how you're doing, whatever it is that you're doing.
19. Take a walk in a park.
20. Smile more.
Most of these suggestions hardly seem like work! Each of them, or all of them collectively, will help you improve your "luck quotient". Why? Because they help you see the world differently, they help you be more creative, they help you see new opportunities! What does the following say? "OPPORTUNITYISNOWHERE" Do you see "opportunity is now here? or "opportunity is no where?" Opportunity is everywhere!
Am I saying not to plan, not to strategize, not to work hard? Not at all. I am saying that there's more to the luck equation than just work and, well luck! These suggestions will bring you more opportunities, more new ideas and yes, more luck. Go ahead take off your shoes!