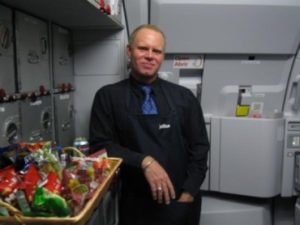 By now you've read or heard something about Steven Slater, the JetBlue flight attendant who, after an altercation with a passenger, left the plane on an emergency slide at JFK airport on Monday.  (If you haven't heard anything, or want to read and see more, check out this page.)
If you have seen or heard much you probably have an opinion about what happened, and perhaps even about Slater himself.   Lots has and will be written about the event, but I want to share a different perspective.
Regardless of what you think of Steven Slater's actions, the reaction to his unique plane exit provides a tremendous leadership lesson for us all. 
Think about it for a second – an employee publicly curses out a customer, steals from the company and puts others at danger (as well as inconveniencing the customers significantly) by his bold escape.  The aftermath causes a PR nightmare for the employer and likely significant costs in the long and short term.
And the employee is hailed as a hero.
As a leader I hope you realize there is something gravely wrong with this picture.
You may have read one of the multiple studies that says a significant number employees at best (and an alarming number at worst) are actively disengaged in their work, openly negative about it and more.
You may not have thought too much about those numbers, or wondered if they were accurate.  As of now, you should have no question.  Everyone who hails Slater as a hero feels, or has felt, that way about their job.
Johnny Paycheck wrote a song years ago – that people have sung ever since – "take this job and shove it."  Now Slater has created a new wave with his unusual antics.
Here is the important question for you.
What level of disengagement do you have in your organization?
One way to judge that would be ask this question: 
How many of your people are hailing Slater and his actions?
The events of this week prove how far too many people feel about their work.  As leaders, we must listen to this voice, and use it as a stimulus to determine the degree to which this is true in our own organizations.
We must hear this collective voice and take action to change that in our own organizations.  If you are on the journey towards Remarkable Leadership you cannot ignore this voice.
Think, ask, understand and act.
Your organization deserves it, and so does your team.