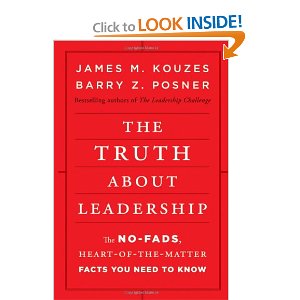 Best selling authors of The Leadership Challenge Jim Kouzes and Barry Posner's latest book is called The Truth About Leadership.  While they have been researching, speaking and writing about leadership for nearly three decades, I believe this is their best work to date.
This book identifies ten leadership truths that Jim and Barry have identified over their careers as the core of what leadership is about.  The truths include:
You Make a Difference
Credibility is the Foundation of Leadership
Values Drive Commitment
Trust Rules
The Best Leaders are the Best Learners
I found myself agreeing with this book at every turn.  I enjoyed the stories sprinkled liberally throughout.  I found the snippets of their research well placed, insightful and far from overwhelming.
This is a very readable book about a topic I am passionate about (and I'm guessing you may be too if you are reading this post).  It is written by two of the best leadership thinkers and writers of our time and it captures, as promised, truth about leadership.
I found myself reading things I say to clients and in workshop sessions almost verbatim.  I suppose when you are aligned with the message of a book, you will most likely enjoy it.  Because of my connection and agreement the book was useful on a first read.  I am confident that as I dip back into it I will find additional insights and ideas far into the future.
Simply said, if you care about your role as a leader and want to become more effective in it, buy and read and apply the lessons in this book.