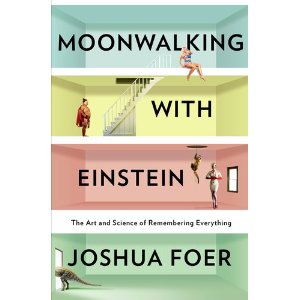 This week's Resource Recommendation is Moonwalking With Einstein: The Art and Science of Remembering Everything by Joshua Foer.
As a student of the learning process, both for myself and in my work of helping others learn, I've long been interested in memory techniques.  I was, therefore, immediately struck by the subtitle of this book. While this book has sold well since its release in March, I stumbled across it in a bookstore, not having heard about it previously. Because the subtitle caught my attention, I picked it up. I'm glad I did.
The book is interesting on several levels. Here is the context. The author, as a science journalist, becomes aware of the U.S. Memory Championships and attends to write a story, as he says, "about the Super Bowl for Savants." What he finds is something very different – mostly normal people training their memories.
As a result of people he meets at the event, he decides to train for the event one year later. The book then, at one level, is about his journey and training to complete in the Championships one year later.
The book falls a bit short as simply a story about that journey, but it excels in other areas.  It provides more insight and specific examples about the deliberate practice research that has been written about in books including Outliers and Talent is Overrated (read my review here). It works as a self help book, sharing many of the memory techniques used by these champions, techniques that you can use and apply as well.
Overall the book was a fascinating read. Even in the sections with scientific research, it read much like a novel. If you are interested in memory, learning and personal growth, you will enjoy this book. I highly recommend it.