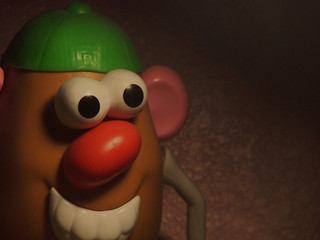 The toy brings a smile to my face, though (showing my age perhaps) some of today's toys don't seem to measure up to those of my childhood.  That's why I love what the Indianapolis Children's Museum is doing.  As part of a coming exhibit they are spotlighting what they call the 100 Toys that Defined our Childhood.  From that list of 100, they created a top 20 list.  Both lists can be seen from this site.
Why am I writing about this on my blog?
I'm writing about it because I believe you should take ten minutes to visit this site and look at these lists.   Chances are one or more of these toys had an impact on your childhood experiences.  Chances are memories will come flooding back to you.  Chances are these lists will make you smile.
But there is a bigger and more important reason.
I encourage you to look at this list of toys and remember what it was like to be a kid.  As adults we want to "be professional" and "be rational".  While there is a place for these adult-like behaviors, there is a (huge) place for curiosity, wonder, and laughter too; and if we aren't putting enough of those child-like qualities in our lives, our work and life will suffer.
At a minimum, take a look at the top 20 toys selected. Even better, vote for your top three (voting is open until September 7).  Even better, read some of the submitted stories.  And if you feel so moved, add a story yourself.
Take a walk down memory lane, and if you want, feel free to mention your top picks in the comments below.
photo credit: samantha celera via photo pin cc