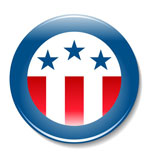 There are opportunities for us to learn from everyday life situations . . . everyday . . . but only if we look for them and take time to reflect on and digest them.
Recently we've all shared a common experience, that I know we can learn much from – and learn different things than you might think. That event? The U.S. Presidential campaign and election (and if you are reading this from outside the U.S. the lessons are just as valuable). As a leader, there are probably hundreds of lessons we can take from these events . . . but only if we step back, think, and reflect on them.
I've been doing that thinking and reflecting over that last year, as I have watched the polls, the press, and the process. As I've examined the speeches the systems, and the selection, I been learning and relearning key leadership lessons.
And as a result of this I've built what I believe to be a very innovative leadership tool for your leadership development right now.. That tool is a teleseminar titled Leadership Lessons from Presidential Politics. During it I will share over 25 ideas, tips, techniques and skills that I've extracted from the process. All of these ideas result in more effective leadership skills for you and can be applied right away!
Consider this as the most innovative leadership skills training you will participate in this year! Whether you are focused on upper level corporate leadership or supervisor training you will find lessons you can apply immediately
This teleseminar will offered twice on November 12 – 2 pm ET and 9 pm ET and I'm paying your registration fee (people normally pay us $57 for live teleseminars) – but you can participate even if you are unable to attend. To learn more about the specific ideas I will be sharing, and to register, sign up for Leadership Lessons from Presidential Politics here.