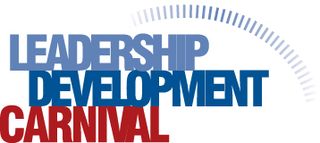 Welcome to Part Three of the Leadership Development Carnival. If you missed Part Two, read it here. If you missed Part One, read it here.
I am loving the opportunity to slow down and savor these posts. I hope you are, too.
I am going to start out today with another first-timer to the carnival. Frank Sonnenberg's reflection on "Living Life with a Purpose," is an important read for all leaders. Welcome to the carnival, Frank.
S. Chris Edmonds share his take on a recent unsportsmanlike conduct penalty in an NFL game. Leaders must define what GOOD CITIZENSHIP looks, acts, and sounds like on their "team." Read more in Chris' post "Leaders Condemn or Condone Behavior," at Chris' blog, Driving Results Through Culture.
Next up is a powerful read from Erin Schreyer. She addresses an emotion-packed topic in "It's Up to Us to Teach Our Kids to Lead!"  Don't miss it!
Leaders sometimes perpetuate workplace problems by forgetting to look a little deeper before they offer a fix. Read more in "Do You Love a Quick Fix" by Guy Farmer.
David Burkus explains why the best way to get people to work for you may not be to pay them in his post "We Don't Negotiate Salary," at LeaderLab.
Nick McCormick explains why managers must make time to manage their people in  "The Myth of Time,"  posted at Joe and Wanda on Management.
Managers can't "fix" their people. Their job is to help them change and grow, but there are no silver bullets for that, only lead ones. Read more from Miki Saxon in her post "Silver or Lead," posted at MAPping Company Success.
We do good work in our paid work environments though we are most often "told" to do what is "wanted" rather then "given" the permission to do what is needed! However, what could happen if we went to our commissioned jobs everyday and took the opportunity to treat it as non-commissioned work? Read thoughts on this topic from Benjamin McCall in his post "The Power in a 'Non-Commissioned' Work," posted at ReThinkHR.
Without a focus on achieving results employee engagement is reduced to a fluffy extra resembling an inane YouTube Happy Dance! Learn the "12 Keys to Achieve Results with Employee Engagement," from David Zinger, posted at Employee Engagement Zingers.
To finish of today's carnival, we have a post that resonates well with us here at the Kevin Eikenberry Group because it relates to Kevin's book release earlier this year, From Bud to Boss.
Dana Theus explores the question "How do we help people get promoted and survive when they do?" Dana writes about the 3 skills that are always on her go-to list in helping people step up to the perspective of leadership. Be sure to click through to read Dana's post "3 Skills to Vault You Into Leadership (And Help You Stay There)," posted at Reclaiming Leadership.
We still have more than 20 fantastic leadership posts to highlight in the next installments of the Leadership Development Carnival. I hope you'll come back tomorrow for more great reads!