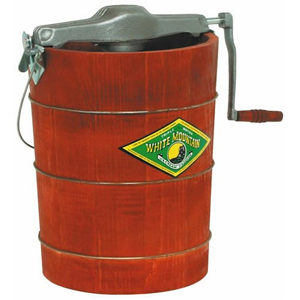 This article was written in 2003 and became a chapter in my book Vantagepoints on Learning and Life. I hope you enjoy it today.
Sitting at lunch after a Saturday meeting, and the topic of homemade ice cream comes up. Recipes are discussed and I mention the new White Mountain freezer that I got for Christmas. (In case you are wondering, six quart, just like the one we had growing up.) Somewhere in the conversation I assert that the ice cream is definitely better if it was hand cranked (which of course is the only way to make ice cream with my freezer…)
My friend Bob Ferling suggested I write a Vantagepoints about this topic, and I thought (and probably said) something like, "I don't think I could write a piece on homemade ice cream."
Now, two days later, with a clearer head, and the memory of homemade ice cream from last night in my mind and on my tongue, it's clear that I can write about homemade ice cream – and what making and eating it can teach us.
The Recipe
I stumbled onto my recipe. It's not the one my Mom or Grandmother used, and with all due respect to both of them, I like it better. The key to the recipe's importance, is, of course, that the ice cream can only be as good as the recipe allows. This is true for all things in life. What you sow, you reap. Following the success principles of others will more likely lead you to similar success. If you use better ingredients, you'll get better ice cream.
Hand Cranking
I know that sometime in my kidhood I heard someone (or ones) say that the ice cream is better if its hand cranked. I also recall side, sly remarks made between "hand-crankers" when people mentioned that they had an electric ice cream maker – as if they were impostors. Whether the ice cream is really any different is highly debatable. What is important, to me at least, is the cranking itself.
Cranking ice cream requires knowledge (knowing how much salt to put with your ice, how much water to add to the mixture, and how to layer these ingredients). Skill; because it takes time to do it well, cranking at just the right rate makes for better ice cream. It also requires patience, since you can't make ice cream in five minutes.
Hand cranking, in my experience, is something you do after dinner, so everyone has time to "make some room" and gives people (often "the men") some time to chat and fellowship, while the mixture is magically transforming to ice cream. We need to take the time for fellowship and conversation. Hand cranking makes us slow down – not a bad thing in our fast paced lives.
The Enjoyment
Few foods rival really good homemade ice cream. The special thing about it is not just that it's good, but that since it doesn't store very well in the freezer, it's a food for the present moment. Homemade ice cream is best enjoyed right now, in the moment. One of the wonders of our children is their ability to live in the moment. Eating homemade ice cream is one of those times where we must do the same – it won't be as magically good tomorrow as it is now. Homemade ice cream reminds me how sweet life can be when we live in the now.
The Tradition
As you can probably tell, homemade ice cream is a part of my growing up and it holds a special place in my mind and in my palate.
I consider myself forward-looking, flexible, and willing to change – more so than many people. But there are some things that are better left unchanged. The challenge we face is determining which things not to change and understanding why.
I don't care what others may say, it's better hand cranked.
Go here to learn more about or order your copy of Vantagepoints.