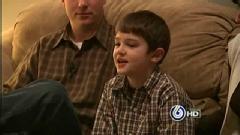 And Sam Baker, age 9 proves it.  Sam had an idea, shared it, and took the steps (even though I am sure some were scary) to make his vision reality.
You see Sam thought his small town in Indiana should have a Christmas tree lighting ceremony.
He took his idea to the Ellettsville, IN City council.  And Saturday he'll flip the switch on the tree lighting. You can read the full story here.
Vision, determination, action.  These things make a difference, and Sam is a perfect example of leadership in action.
Sometime we make it too hard.  It isn't always about strategic leadership or executive leadership coaching.
We know the basics of good leadership skills, and so does Sam.  Yes, leadership is a complex animal and executive coaching and formal leadership development programs are valuable and important.  But the building blocks we build all of those leadership development activities on are vision, determination and action.
Thanks for the reminder Sam.