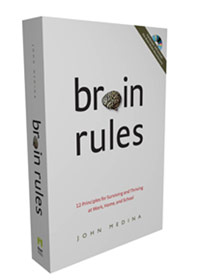 Today's Resource Recommendation is Brain Rules: 12 Principles for Surviving and Thriving at Work, Home, and School by John Medina.
To be at our best we must know all we can about all of our resources. Perhaps the most powerful resource we have at our disposal 24/7 is our brain.  In this insightful and interesting book, Medina, a molecular biologist, teaches the reader through a well-planned web of stories and research much more about our brains, how they work, and most importantly, how we can use them more effectively.
As the book title implies, the book is laid out in terms of rules. Examples include:
Rule #1 – Exercise boosts brain power
Rule #4 – We don't pay attention to boring things
Rule #9 – Stimulate more of the senses
Rule #10 – Vision trumps all other senses
As a learning professional, and someone who has long been fascinated by how the brain works, this is not the first book on this subject I have read. It is however, one of the most immediately practical and useful, and very likely the most entertaining.
The title suggests you can use these lessons at work, home, or school – which means pretty much everywhere.
I agree.
Since we carry our brains with us everywhere, gaining greater understanding of how to harness our brain power more effectively is helpful. This book can give you that understanding.
While you are buying a copy, buy two — there is someone else you know that has a brain they'd like to use better.