By M.R. Nelson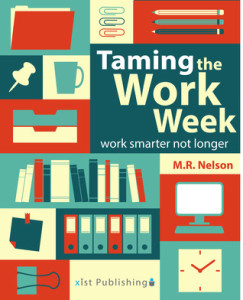 I've long been a student of productivity and improving my ability to use time. It is an important study for me both personally and professionally. I am spending more time reflecting on, trying and applying ideas in this area now, for a variety of reasons (some of which I will be sharing here in the future).
For those reasons, today I recommend this very short book – so short that five years ago it likely wouldn't have been published, except as a pamphlet. And you can't actually buy it in print, it is available as a Kindle book only.
Because it is short, it doesn't cover everything and doesn't create an overall strategy for time management. To its great credit, it doesn't try to do that or suggest that it will. Instead it takes the perspective of the author who works as a project manager in a cubicle environment and shares her experience and her research.
Here is what I like about this book:
It is real. The author shares things she tried that don't work for her and suggests that you need to test the ideas yourself.
It is straightforward. The author debunks some common strategies that don't work for her.
It is practical. The author talks about practices not ideas.
I don't agree with everything the book discusses, but that is OK too. It shed new light on a couple of strategies (including time tracking which I agree with in principle, but haven't had great personal success with) and was a refreshing and quick read.
I've never reviewed a solely Kindle book here before – so in case you don't know, you can read them on a Kindle, with an app for any tablet or phone, or even on your pc.
This book will cost you $2.99. I'm confident you will get far more value from it than that, even if you only are reminded of things you "knew" but don't do.