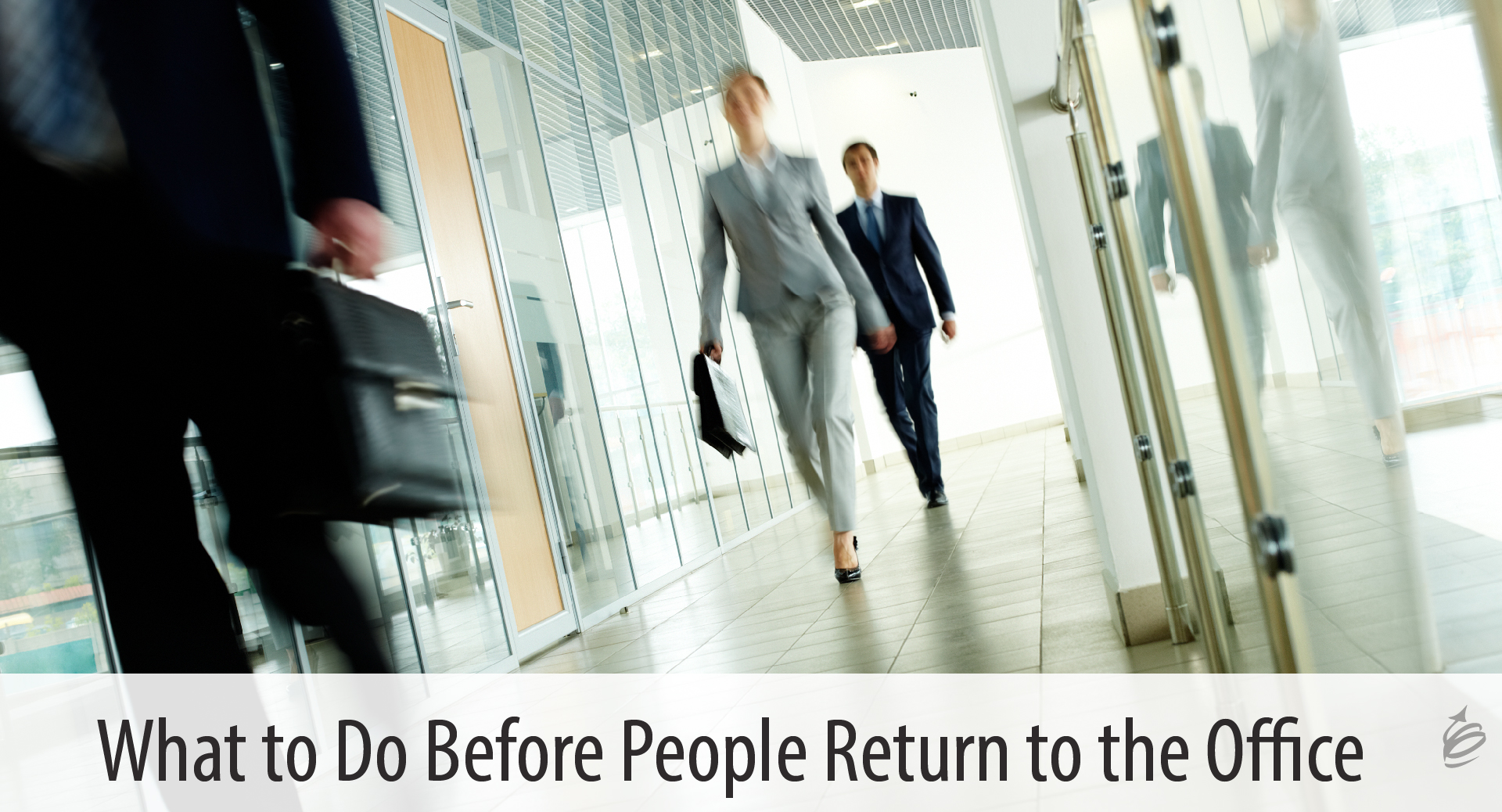 Workplace re-entry will be hard. There is more to preparing your people and organization for a return to the workplace than making sure you follow OSHA, CDC, and State guidelines. Those guidelines are important but are simply table stakes – they ensure compliance and assure safety of your team members. If you are planning to bring people back to the office, there is much more to think about that will have a long-term impact on your business.
Here are five questions to ask/things to consider and factor into your workplace re-entry plans.
What is your long-term goal for workplace re-entry?
Have you or your leadership team talked about you want your future workplace to look like?  Will everyone return? Will some jobs return to the office, while others won't? Will people have more flexibility in their schedules?
Some organizations have already stated their vision, Twitter, for example has already said some people can work from home "forever."  Others in a variety of industries have set dates for people to return. As an organization, now is the time to be thinking about what your long-term working goals are. If you aren't sure, make sure you are thinking about it, and consider the next question.
How will you engage your teams in the planning process?
If you have absolutely decided on your plan and vision, communicate it.  But chances are, you would be pleased both now and later if you engaged your teams in this discussion.  Do you know what they prefer?  Do you know what they are thinking?  Have you surveyed or polled them?  (If not, I recommend this as your first step).
As leaders you have a perspective about the economics and other factors that team members don't have – but you don't see everything. Your employees have a valuable perspective and are significant stakeholders in their working situation.  Those are reasons enough to engage them and get their input.  Beyond polls and surveys, consider focus groups or other ways for the employee voice to feed into your workplace re-rentry decisions and plans.
What does your culture tell you?
I am a big believer that we should run all decisions of any significance through the culture filter. You do that by asking questions like:
What does your current culture (or aspirational culture) tell you about this decision?
If we decide x, how will that impact our current or aspirational culture?
If we decide y, how will that impact our current or aspirational culture?
What does the culture tell you about how you should make this decision?
The decisions you make and how you make them about workplace re-entry will have an impact on your culture for a long time to come. Doing it intentionally now will pay dividends for a long time to come.
What scenarios and contingencies do you need to consider?
The pandemic and associated lockdown could have long term impacts on your core business.  Many organizations are currently immobilized – simply because they don't know when things will change, when events and activities that have played a key role in their businesses will return, and what they will look like when they do.
If you are feeling in limbo, because you don't know what will change and when, consider building contingency plans. It could be as "simple" as: what will we expect from our team members if schools don't open in the fall.  But likely you will have several scenarios might consider.
Considering scenarios isn't predicting the future, it is helping you plan for different eventualities. By starting that now, you will be in a better place to adjust that as the days and weeks unfold.
What will be your ongoing communication plan?
Communication has always been a central role of leadership.  Now, with so much uncertainty, the need for information, timelines and plans has never been higher.  You will help the psyche and morale of your team if you let them in on what you are thinking as quickly and frequently as possible.  They don't expect you to have all the answers, but they would love to know what questions and scenarios you are wrestling with.
Remember too, that every leader has a two-direction communication role – they need to communication messages downward, as the face and voice of their leaders, and be the face and voice of their teams upward as well. If you ever needed good interpersonal and organization communication, now is that time.
This isn't a complete list, and without knowing your specific situation, it is impossible to be more specific. Hopefully, this list expands your thinking and helps you build a plan that not only works in the short-term, but ensures long-term success. If you would like more specific help or would like to discuss your needs with us, reach out and let's talk.
….
As you are moving people back to the office, are you bringing everyone? If you want some to continue working from home temporarily or for the long haul, our 12 Weeks to Being a Great Remote Teammate learning experience maybe be exactly what your team members need. This learning systems gives remote workers the skills and tools to be more productive, more engaged, and more successful in this working situation.
If you want to support your remote workers or improve your own skills, you owe it to yourself, your team, and your organization to check it out. And currently, it is available at a 75% discount!