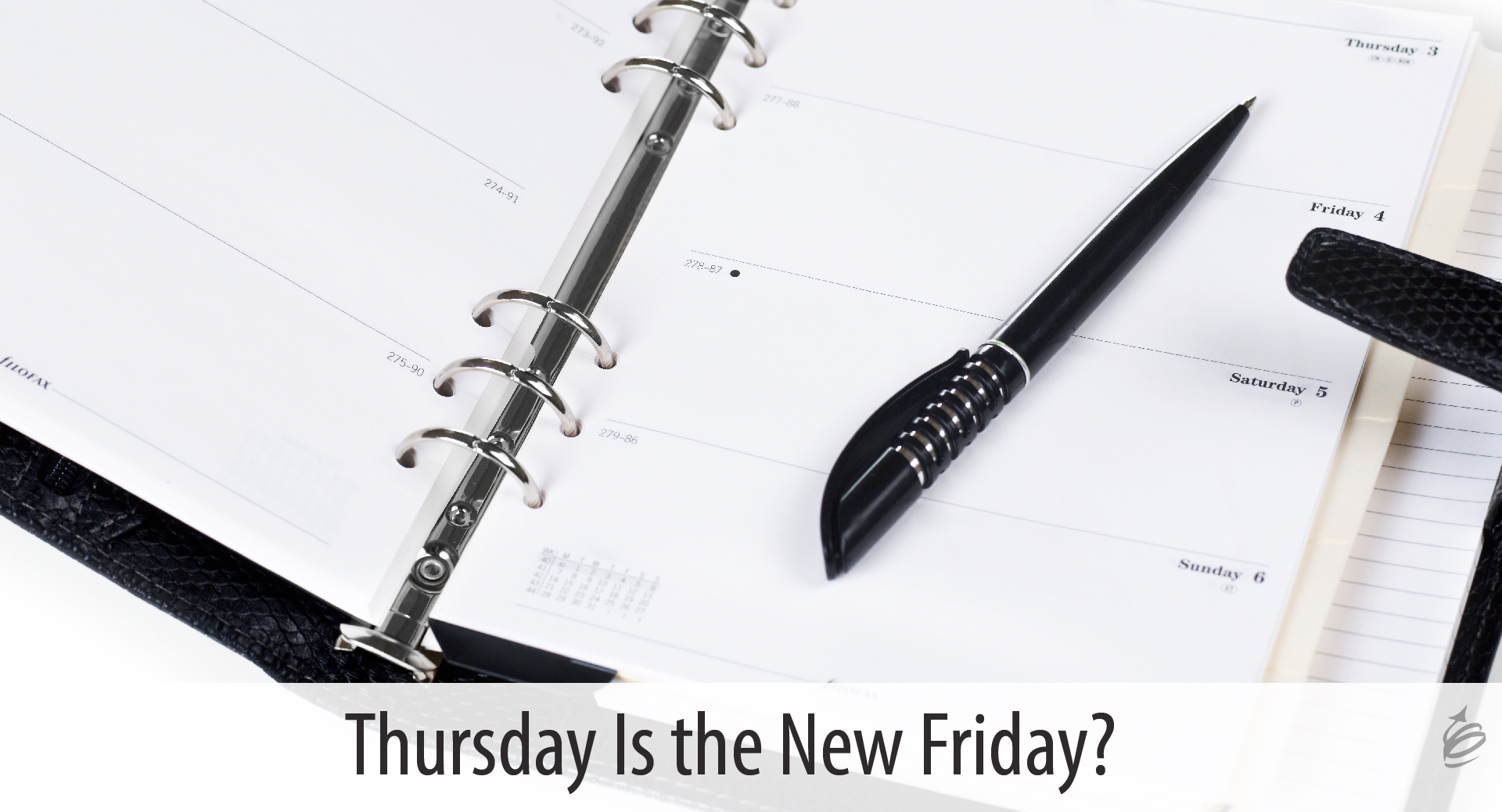 I've been saying for a while now that the future of work is flexibility. Flexibility in where people work, but also when they do it – flexible work schedules. Recently, I met and read the book of Joe Sanok who is taking this idea to what some will say is an extreme, but also a tangible conclusion. He believes we can work less hours, make more money, and have more time to live and not just work. His solution? Work four days per week.
Specifically, Joe is suggesting that Thursday is the New Friday.
What's The Big Idea?
The big idea of this book is that we can change the construct of when and how much we work – and still get great (maybe better) professional results and get better outcomes in the rest of our lives as well.
While there are people that work fulltime, but just four days per week, typically they are working "four 10's" – 40 hours in just four days. That is not what Joe is suggesting. Joe is suggesting, advocating, and creating movement for working just four days per week – not cramming more hours into those for days.
This book lays out his argument in a logical way. The opening chapter addresses the history of calendars and the assumptions and practices that led to five working days becoming the norm.
Largely, the book is for individuals to think about what it would take mentally and habitually to think about a four-day work week and how to slow down enough to make it happen. Wisely, the book is part mindset, part career development, and part productivity. The last section talks about how to actually implement these ideas on a team or in a company.
Whether you embrace Joe's specific ideas about flexible work schedules, I recommend this book. First as a revolutionary, he is also a realist. He isn't suggesting to cold turkey close up work on Thursday, nor is he suggesting a 100% application for everyone. In his openness and flexibility, he becomes more influential about his overall proposition.
Why else do I recommend it?
I learned new things in this book. My thinking was challenged by the ideas within. And it led me to learn new things about myself. Anytime those three things are true, chances are I would recommend a book.
If you want a bigger flavor of the book and it's ideas as a way to "try before you buy" or to learn while you wait to get your copy, I recommend the conversation Joe and I had on The Remarkable Leadership Podcast.