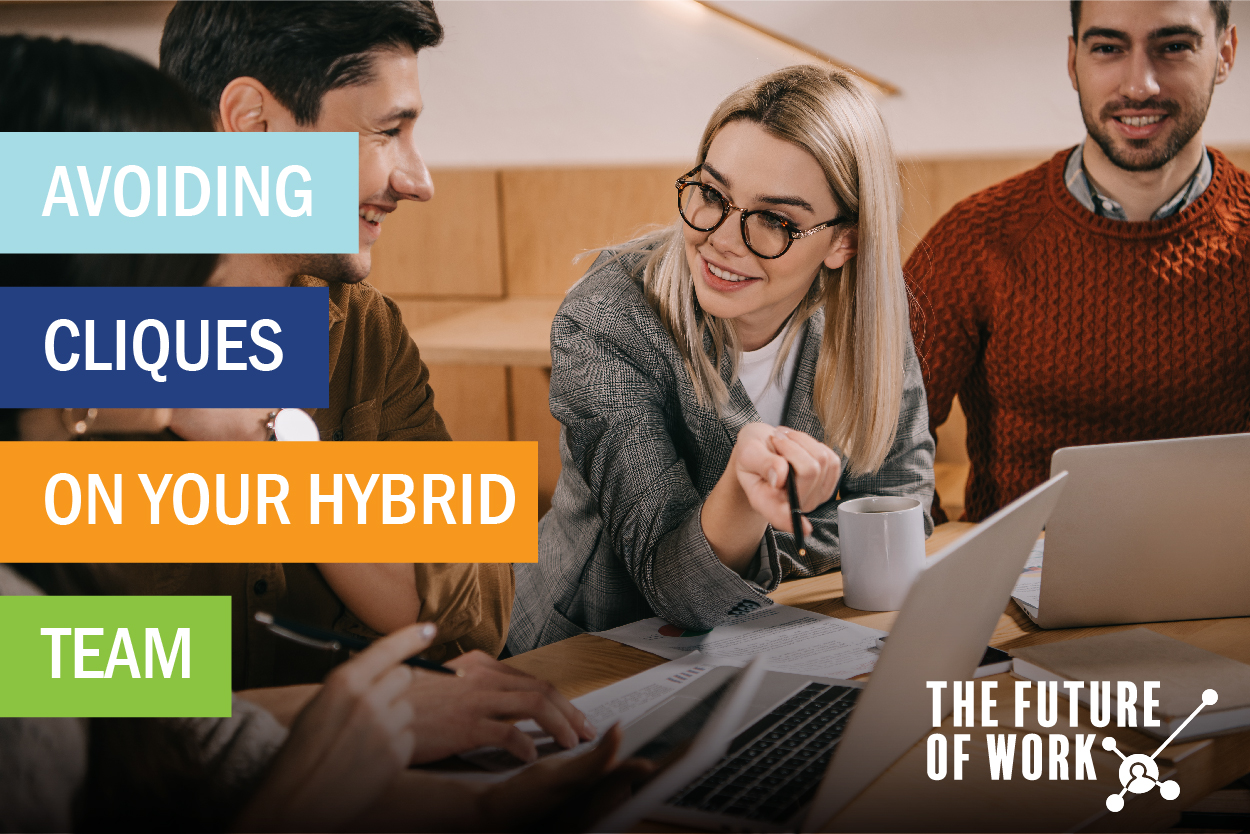 Put people in groups and cliques will naturally form.  While they don't have to be negative, often they are seen as such, especially by those on the outside looking in.  As we move to a new future of work leaders must be aware of cliques on hybrid teams, so the negative impacts can be avoided.
My colleague and co-author Wayne Turmel wrote bout this on our Remote Leadership Institute blog yesterday, and he opened with a definition of clique:
"a small group of people, with shared interests or other features in common, who spend time together and do not readily allow others to join them."
He focused on the phrase "who spend time together," but I want to focus a bit more on the last part of the definition: "And do not readily allow others to join them."
Here is what I have noticed about cliques. People inside them don't always recognize they're in one, but those outside can see it very clearly.
You might have groups – part of your team – that are hanging out together, because they spend time together that are (or become) exclusionary on purpose.  Far more likely is the group that has become seen as a clique but isn't doing so intentionally.
Six simple things to keep in mind if you see cliques on hybrid teams forming
Make people aware of the concern

. Let everyone know of the concern upfront. If the exclusion isn't intentional, and people know of the concern, they will be more consciously welcoming of others.

Give people more information about the possible problem

. Have everyone read this article, and the one I mentioned above – and talk about the concern and how you will overcome it proactively.

Watch for the perception of the outsiders.

Do those who work from home or are in the office on different days feel unwelcomed?

Give feedback to the clique.

Again, if a barrier is forming or is perceived, let them know that isn't helpful to the overall team.

Share the inside stories.

When groups share the stories of what happens when they are together with the rest of the team, people feel more on the inside.

Preach "one team."

  Help people see through your words and actions that you are all one team, not subgroups that naturally form.
Taking these steps have help you avoid cliques on hybrid teams, or reverse that trend if it has already started.
Want to avoid (or dismantle) the cliques on your hybrid teams? Want to build your hybrid team with greater success and confidence?  Want to help your hybrid team members succeed and be more productive and collaborative?  The Building an Effective Hybrid Team Master Class might be your best next step. Learn more about how to build your hybrid team -and get greater hybrid team collaboration.