By Maura Thomas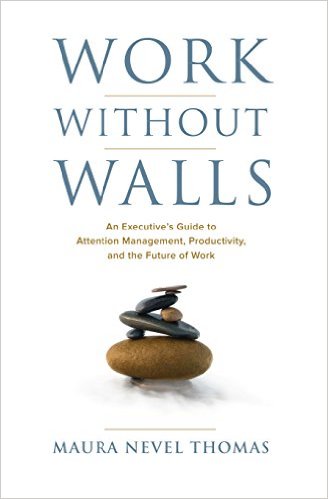 In 2015 I ran across a book called Personal Productivity Secrets. (Here is my recommendation.) I was so impressed by this book that I wanted to meet the author, so I reached out to her and that began an intermittent, but ongoing conversation with her about productivity and more. In Maura, I found someone who asked some of the same questions I asked, though she asked them to help her clients, and I asked them, mostly, for myself and perhaps my team.
I had the chance to read an early draft of this book (and provide a brief review – which you will see if you go to Amazon to buy a copy), and talk to her about the construction of the chapter titled "the location of work."
I share all this to let you know that I might be a bit biased, and that I was eagerly anticipating the book. When I received it last week, I read through the final version, and immediately knew I wanted to recommend it to you here.
The subtitle of the book provides the promise that the book delivers: An Executive's Guide to Attention Management, Productivity and the Future of Work – with just one caveat – it isn't just for executives.
This book expands on Maura's belief that there is no time management, only attention management, and while that idea permeates the book, this isn't a time management or productivity book alone. Rather this book takes the challenge of disruption and distraction and places it into the context of our work; looking at office environments, email, vacation policies, where we work and much more.
The book provides practical ideas for helping you and your team improve, and provides a higher level view of what is happening in the world of work and challenges us to think about it.
If you buy a copy and read it, I would encourage you to look at two other books with interesting connections to this book, without being repetitive – Deep Work by Cal Newport (Amazon and my recommendation) and Under New Management by David Burkus (Amazon and my recommendation).
This slim book will help you understand what you are already seeing, help you see some things in new ways and give you practical suggestions to make your work, and the work of those around you more effective.
Note: If you are interested in learning more about these ideas and from this author, she's been a guest on The Remarkable Leadership Podcast. You can listen to that episode here.