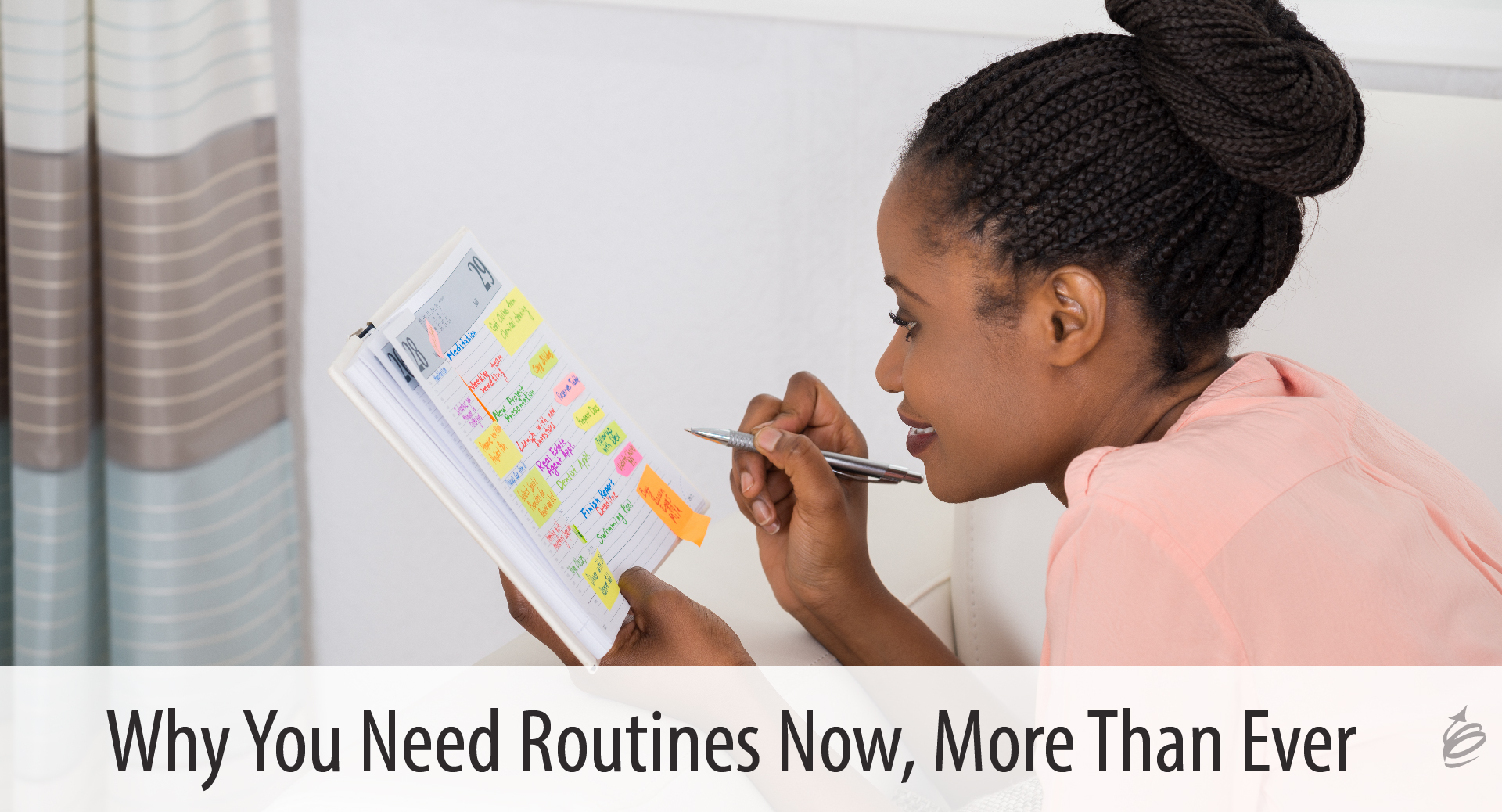 As long as you have been in the workplace, you have had work routines. As your job situations changed, those routines adjusted with you. Rarely have so many seen their working situation change so drastically, so quickly. Now, nearly all of the cues and rhythms that marked your workday are changed. No commute. No coffee in the breakroom. No making sure you have your keys or security badge. Maybe no shower or pants.
What may have seemed like a wonderful dream to start, now might be a nightmare. Even if you like working from home, there might be some things strangely unsettling. It's possible that what you need are some new work routines.
Here are six ways work routines can make your life better.  Routines do each of these things for you.
Give you control. The pandemic and the related shutdown of commerce and more has robbed many people of a sense of control. While you can't control the path of the virus and the decisions government officials make, your routines are yours. A routine, even one you are developing gives you a sense of order and control.
Save you time. Ever noticed that when you are in a new place or situation everything seems to take you longer to accomplish? If you are on vacation the extra time may not matter. But you aren't on vacation now. Time is the asset you may value more than any other, and you can't get any more of it. Routines help you do things more quickly, and I bet you could use a bit more time right now.
Aid your brain. Routines and habits take decision making pressure off of your brain. If you wake up and everything is new, and you have to decide if you are going to brush your teeth, whether or not you are going to shower, and if you want coffee – your brain can't focus on anything else – each decision must be made independently. If your brain feels like it is on overload, look for new places or situations to create routines and you will get part of your brainpower back.
Make you better. While we usually think of a routine as being subconscious, a checklist is a form of a routine too. If pilots can use a checklist to prepare a plane for takeoff, you can find uses for them too. They keep you from needing to remember everything (another way to help our brains), build productivity, and help us intentionally do what we want to do.
Reduce the need for discipline. Researchers tend to agree that we only have so much willpower and discipline available to us at any time. While we need discipline while establishing a routine, once it is established and set, we don't need to focus on it, build our willpower or struggle. Our routine is just what we do – no willpower required.
Increase your self-confidence. If you have done something once, you might have a bit of confidence that you can repeat it. If you have done something 100 times, you will be more confidence about it, right? As you build new work routines your confidence in that area will grow. And the great thing about self-confidence is that it spreads. Self-confidence in one area of life helps you build your confidence in other areas too.
If I could hand you a prescription for a tablet that would increase your confidence, give you more control, help you be more productive or help you improve your performance, you would be interested. If I could prescribe one thing that promised all those benefits, the whole world would want a bottle.
I just gave you that prescription for free. Perhaps especially now you need new work routines.  As you consciously build them you will gain all those benefits.
….
Helping you find a new rhythm and productive work routines are just a small part of what is included in our 12 Weeks to Being a Great Remote Teammate learning experience. This learning systems gives remote workers the skills and tools to be more productive, more engaged, and more successful in this working situation.
If you want to support your remote workers or improve your own skills, you owe it to yourself, your team, and your organization to check it out. And currently, it is available at a 75% discount!