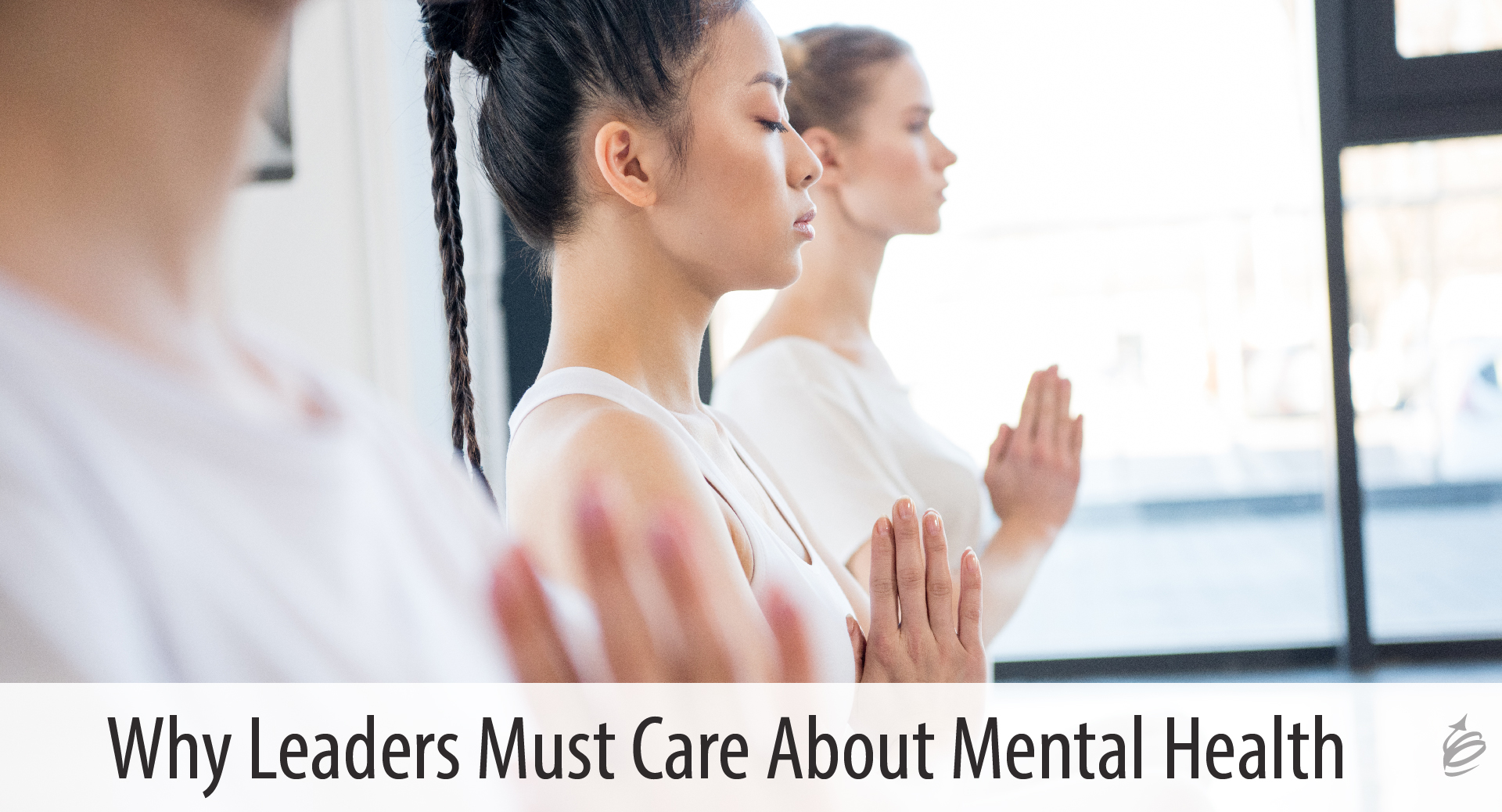 There are many factors that impact people's performance at work. These factors include skills, experience, physical health, mindsets and values, and their mental health, too. We all know that when we're stressed, anxious, or worried, we can't do our best work. Therefore, leaders should care about the mental health of their teammates. But is it that big of a factor in performance? Should leaders really be concerned about mental health at work?
In short, yes.
And here are just some reasons why.
Mental Health Impacts Performance
Truly, this almost goes without saying, we have all experienced at least some decrease in work productivity due to anxiety, stress, worry. And this doesn't include more severe mental health challenges.  Mental health challenges can impact energy level, concentration, dependability, mood or attitude, and more.  The CDC reports (more here) that 71% of adults reported at least one symptom of stress, such as a headache or feeling overwhelmed or anxious.  And while we know those factors matter, that same paper states the following about the impact of depression:
Depression interferes with a person's ability to complete physical job tasks about 20% of the time and reduces cognitive performance about 35% of the time.
Only 57% of employees who report moderate depression and 40% of those who report severe depression receive treatment to control depression symptoms
Mental Health Impacts Physical Health
Human beings are whole beings; there is a yin/yang relationship between physical and mental health.  Organizations have long encouraged team members to be physically active and fit through incentives, access to fitness centers and more. But we have been slower to recognize the importance of mental health. While physical fitness can positively impact mental fitness, poor mental health can create or exacerbate negative physical ailments as well.  As leaders, for both organizational and human reasons, we want our team members physically healthy.  It is time to recognize the role of improving mental health to improve physical health too.
Mental Health Impacts Team Culture
Stress, worry, burnout, and anxiety can impact communication success, levels of unhealthy conflict, and make the workplace more tense and a less inviting place.  As leaders we want to promote a positive and productive workplace – one where people can get great results together. – Mental health challenges for one or more people can severely impact reaching that goal consistently.
Caring About Mental Health Improves Relationships
We've seen that improving mental health at work has positive impacts on the team and results.  But when we as leaders are seen as empathic, understanding, and caring (all factors that can support improved mental health at work), we will have stronger relationships with our team members too.  People want leaders who know them and are willing to support them.  By leading the way in providing understanding and support for team members (including their mental health) we nurture our relationship with them and further build lasting trust.
Caring about Mental Health Impacts Retention
Look at the last two points – improving mental health at work will improve culture and the connection to the leader.  If we get these two things right, retention will automatically improve on our teams.  As leaders we are judged in part on our ability to create and grow our teams – and we can't do that if the talent is turning over too rapidly and regularly.
It is the Right Thing To Do
I could say far more about each of the points above. I could cite statistics and better define the argument for the business imperative of improving and supporting mental health at work.  Any one of those points would be an overwhelming reason for leaders to care more about mental health at work.  Even if none of those things were true, as should still care about the mental health of our team members, because it is the right thing to do.  The best leaders are understanding and care about their people.  They want them to succeed and reach their goals.  And none of us can do that if we have challenges (even small ones) with our mental health.
We do not need to become mental health professionals, but we do need to become more aware, empathetic, understanding, and supportive. We need to listen better and more consistently, and we need to know when to help people get further help when needed.  As much of the stigma about mental health challenges is lessening in society, this topic and skillset will increasingly become important to leaders at all levels.
You Too
And it isn't just the mental health of your teammates, but all this matters for you too. Yes, we should for all the reasons above, care about the mental health of our team members, but we must take care of ourselves too.  All the facts and ideas in this article apply to us as much as they do to our team members – and if we aren't in top mental shape, it will be hard for us to succeed to our potential for others.  In short, we can't solely focus outwardly with considering mental health at work.  We must observe the ancient proverb – physician, heal thyself.
…
Want to overcome your stress, anxiety, and floundering mental health? Join us for the Fostering Our Mental Fitness virtual event April 13. Join 7 experts and a community of leaders and learners as we learn tools, practices, approaches, and mindsets to improve our mental fitness. Get details and your free registration here.