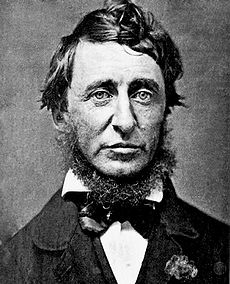 Henry David Thoreau lived to be 44 years old, died 150 years ago, and clearly made a difference.  While best known for his writings Walden and On Civil Disobedience, his writing totaled twenty volumes.
While the quotation that follows makes sense coming from a writer, it holds powerful meaning for all of us.
"The question is not what you look at but what you see."
– Henry David Thoreau
Questions to Ponder
What do I look at?
And when I look, what do I see?
Action Steps
1.  Consciously notice what you are looking for.
2.  Use any situation to see if there is application or lessons for your current challenge.
My Thoughts
The profound nature of this idea and it's implications could fill books. And I don't have the time, and you don't have the inclination to read a book on this today. 🙂  So let me give you just one important implication. (Here is another I wrote about recently, based on an email I received from my son).
Use this truth to help you with your current learning challenge. A learning challenge is a problem you are trying to solve, a subject you are trying to learn, a skill you are trying to master – anything that you are consciously and diligently working on learning.  (If you don't have at least one current learning challenge, why not?)
With your learning challenge in mind, ask yourself, "What is in this situation that I can apply to my learning challenge?"  This can apply to any meeting, movie, book, or experience in your life.  As Thoreau said, what you are looking for is what matters, so if you are looking at a situation or experience through the filter of your learning challenge, you are likely to find something valuable.
Try it.
It works.