By Kobi Yamada, Illustrated by Mae Besom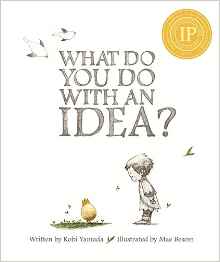 From the picture you can probably tell that this isn't the typical book I recommend here. It is shaped like, and illustrated like, and categorized like a children's book. While I would highly recommend it as a book to give to children, make no mistake; this book speaks to us as adults.
And parents.
And leaders.
The book asks what do you do with an idea. You get them every day, but you don't do much with most of them, do you?
The book opens like this.
One day I had an idea.
"Where did it come from? Why is it here? I wondered, what do you do with an idea?"
The child in the story proceeds to wrestle with the idea and the idea of ideas – the challenges and pleasures of them.
There will be no spoiler to the short story here.
I will just say that if you want to be more innovative, if you want to be inspired, and if you want to give yourself something to think about far beyond the five minutes it will take to read this book, buy yourself a copy.
Read it.
Read it again in a couple weeks.
Then read it once a month.
Do that and you will know what to do with your ideas and have the courage and confidence to follow through.
Do that and you will know what to do with an idea, and likely you will do exactly that.