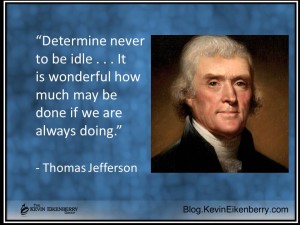 I'm in the process of reading a great biography of Thomas Jefferson – which I am sure I will recommend on this blog in the future.  Today I share a quotation from him – one we can all learn from.
Questions to Ponder
– How often have your results been diminished because you had trouble getting started?
– What could/might you be doing right now?
– What is the highest and best use of your time right now?
Action Steps
1. Do
2. Something.
3. Now.
4. Don't wait, start doing something.
My Thoughts
My thoughts about this quotation are varied.  As I have often written here, I think knowing something about the author tells us much and gives us greater depth of insight in to the quotation itself.  That is certainly true here.  Even a casual history buff knows that Jefferson achieved at very high levels in many parts of his life.  It is clear these weren't just words to him – but a part of his value system.
I'm sure Jefferson would have loved the Nike ads – "just do it."  If you want to achieve even a portion of what Jefferson achieved in his life, take his advice and start doing something.
I'm going to stop writing now so you  – and I  – can start doing something!