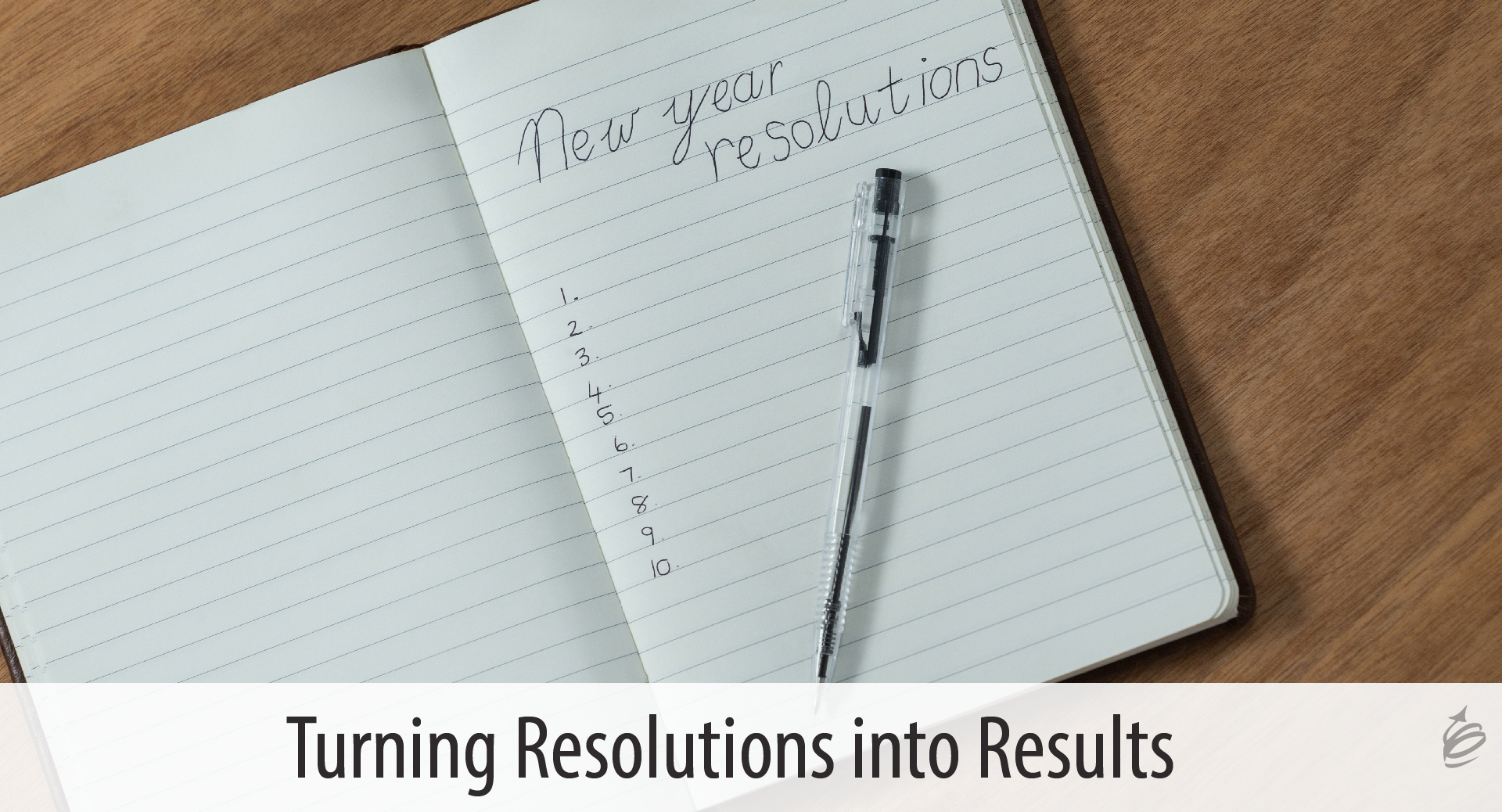 Every January, millions of people make new resolutions with hope and anticipation. And for most, those resolutions don't make it to the end of January. What if you had tips and a strategy to turn your resolutions into results? If you knew what to do when you started to falter or had already stopped, would you keep trying or try again?
Why We Falter and Fail
There are lots of reasons why we get in the cycle of "set new years resolutions/break new year's resolutions". As you read this short list, ask yourself: is this me?  Once you realize why you fall short of the results you intended, you take the first step to getting better results.
We fall into a cycle. It is a cycle, and you have done it before, right? Set a resolution, break a resolution.  This means that the way you set resolutions last time likely won't work the next time. Sounds like the definition of insanity (doing the same thing and expecting a different result) doesn't it? Are you willing to do it differently?
We never set a goal. Resolutions are typically wishes. "I'm going to get in shape this year." "I'm going to drink more water." "I'm going to read more." Nothing wrong with any of them, but they are wishes, not goals. Consider, "weigh x by March 1", "drink four 8-ounce glasses of water per day", or "read one book/month." Each of these are specific and measurable goals.  Have you framed your resolutions as goals?  (If not, do it now).
We don't have a clear why. Notice that the word resolution is related to the word resolve. When we resolve something, we decide firmly and have determination. Determination comes from a purpose or meaning beyond the resolution itself.  It is great that you want to read more or eat less, but why?  The resolve and determination needed to change something comes from the why.  Why did you set the new year's resolution in the first place?
We don't have a process. Once you have a goal and a clear why, you need a process. You are changing habits here, so you need to have a plan. Decide when and how you are going to do things. Where will you place the water glass to remind you to drink the water?  When will you read each day?  Results=goal + why + process. When you have those three things you have a chance.  If you are missing any of them, you likely haven't a prayer. What do you need to do each day in order to reach your desired results?
We get discouraged too quickly. On the third day you ate the chocolate cake. On January 24th you didn't go to the gym. You watched Netflix instead of picking up the book, again. Take a deep breath. Keeping your new year's resolution and achieving the results you want require changing your habits. You've stayed home a lot longer than you have gone to the gym. Just because we miss one day (or three or five) doesn't mean we can't get there. Why do you allow yourself to get discouraged too quickly?
We give up too soon. Once we get discouraged, we are more likely to give up. We listen to our internal voices, or those around us that slide us back to our old habits – the ones that don't allow us to reach the goals we have set.  If the resolution was important in January, why wouldn't it be important now? Have you allowed your discouragement to stop you?
Getting and Staying on Track
Whether your new year's resolution is hanging by a thread, or you have already forgotten what it was, there are ways to stay on track or get back on track.  These ideas will help you turn those resolutions into the results you desired.
Answer the questions above. If you answer the questions you've just read, you will be reinvigorated and will likely be back on track. You will have a firm foundation and renewed resolve.
Remind yourself of your why. Now you know your why.  Keep that as your directional beacon. When you pick up the remote, remember your why and you are more likely to put it down and pick up the book.
Start smaller. Perhaps your new year's resolution was too big to start with. You don't have to lose 10 pounds this month do you? Three pounds a month for four months will still have your clothes feeling better in the spring. Make the goal big enough to inspire you and make a difference, but not so big that you are discouraged before you even begin.
Focus shorter. Focus on today. Drink the water today. Exercise today. You change a habit and reach new results one day at a time. Just do your thing today. That is all you can do anyway – today.
Grant yourself some grace. And I know you will miss. You will falter. You will fail.  But missing yesterday doesn't mean you have failed and need to toss out the resolution! You missed a day; you start over tomorrow. One day at a time is how we get there – one miss is ok. Be patient and encouraging with yourself and get back at it tomorrow.
Be flexible. When you are focused on the goal rather than a wish, you might adjust your plan or approach so you can achieve your result. When we live in wishing land, when it doesn't go the way we want, we give up.  Adjust, shift and change your approach, don't throw away your goal.
Keep going. Results worth getting won't always be easy. After all, if it was easy, you wouldn't have had to set a resolution I the first place. One foot in front of the other.  One page at a time. One glass at a time. Persistence pays and leads to victory.
Resolutions won't work without resolve. But once you understand that and shift from wishes to clear goals, you have a chance to get the results you wanted when you set the "resolution" to begin with.  Think about what you have read, make some adjustments to your approach, and grant yourself some grace, and you can be on the path to turn your resolutions into results.
….
As you see, turning resolutions into results requires sources of ongoing support, encouragement, and inspiration. What if you had a short daily email to inspire and inform you? And what if that resource were free? Sign up to receive an email from me Monday through Friday what will be a source of inspiration for you as you turn your resolutions into results.