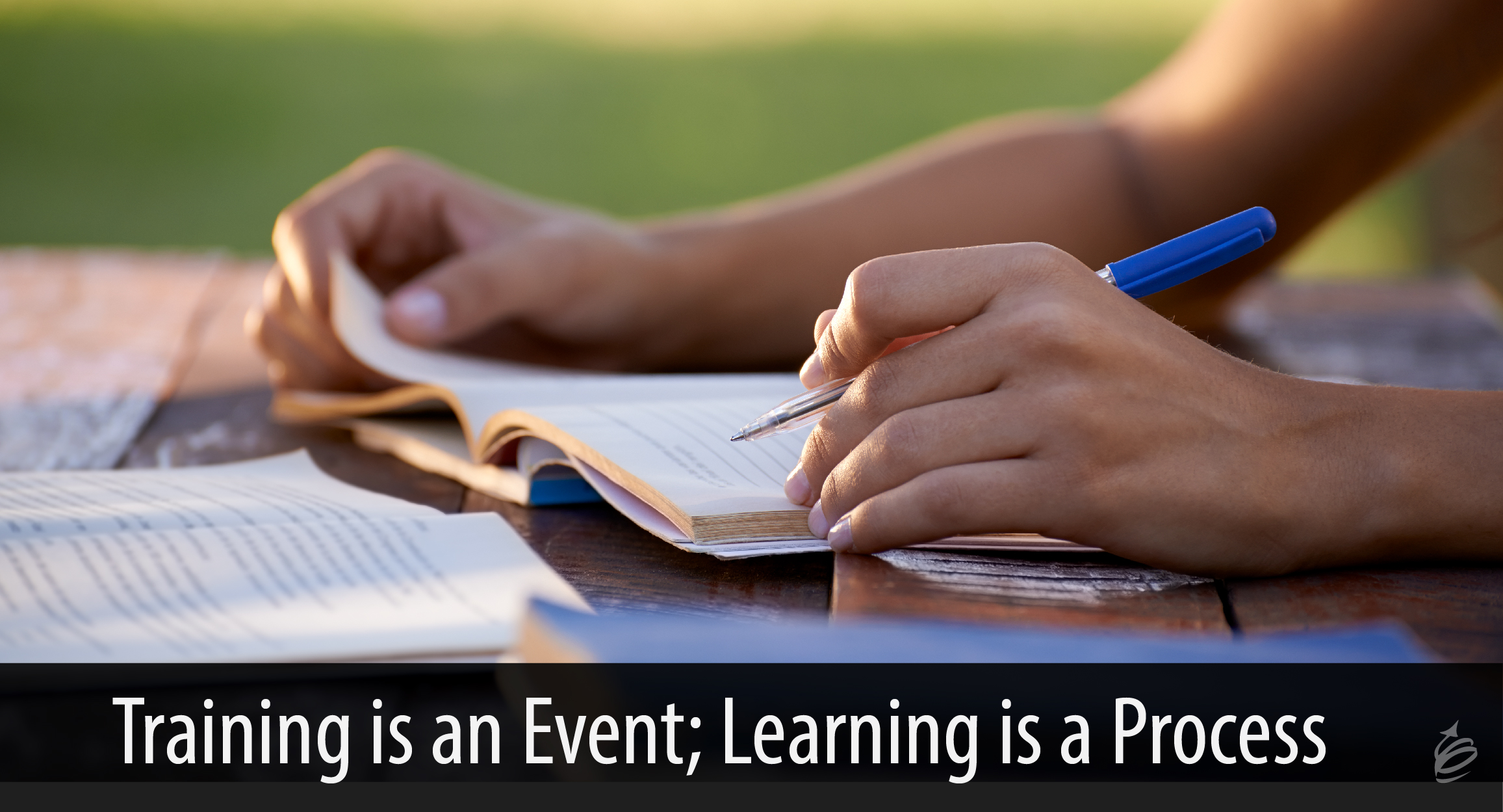 For about 30 years, people have pegged me as a "trainer" and defined what we deliver as "training." It didn't take me nearly 30 years to realize that "training" is a limiting term. The truth is, we aren't in the training business at all. That's why for many of those 30 years, I have been repeating this truth: Training is an event, and learning is a process. Focusing on learning and the learning process sets a higher bar than delivering training. Today, I want to describe the difference and help you make the mental shift I made so many years ago.
Training
When you think about attending training, are you elated, excited, and eager to get started?
When we focus on training, we focus on something that is done to people, that people attend. At best, we think about training as something in which people participate. It is focused on the content and the topics to be covered, and in order to scale it across an organization, it must be one-size-fits-all. In part because of this mental starting point, too often training becomes linear, bland, emotion-less, and something we sit through.
But even if the training itself is excellent, the mental starting point of training is limiting.
Learning
Contrast that to learning.
Learning is a part of who we are as human beings – we have been doing it our entire lives. As adults, we need to figure out how to channel this natural ability into meaningful professional outcomes – and our organizations want that to happen too. We learn in three main domains: knowledge, skills, and attitude. Training can help with the knowledge domain, but rarely is that all we need. Learning is natural, energy creating, circular, and customized to the learner. After all, they are all that matters. In the real world, skills and attitude reign supreme, and training (alone) doesn't get us there.
The Learning Process
That phrase alone tells the story.
Learning is a process.
Think about any skill that you have. Did you learn the skill in a classroom, or watching some online training? Here are some examples:
Riding a bike
Playing a musical instrument
Walking
Making scrambled eggs
Or more to our point today:
Listening
Being a good team member
Giving feedback
Setting goals
We learn skills by practice, in an active, real setting, where we can try, fail, repeat, and improve. Your experience tells you that learning is a process.
What This Means to You
Put your focus on learning.
When you attend training, you build an action plan and go back to the real world to try it. Until you practice, you won't create a skill or have any chance of improvement. If you are creating training, put the focus on getting learning started during the event and creating as much process after the event as you can – because that is when the learning will happen, if it is going to happen.
Because you are a beautiful human/learning being, deep down you know what you've just read. I'm simply urging us all to wake up and apply everyday what we know.
None of this is meant to disparage the training professionals around the world at all. Most are extremely dedicated and passionate about their work. Note that many have had a change in job title to include learning, even if we still call them the trainer. My message here isn't just for the training world, but for everyone. I'm stating a fact that we probably know, but don't act on.
The fact is that the goal is learning, not training. To reach that goal, we must remember and act on this truth: training is an event, but learning is a process.