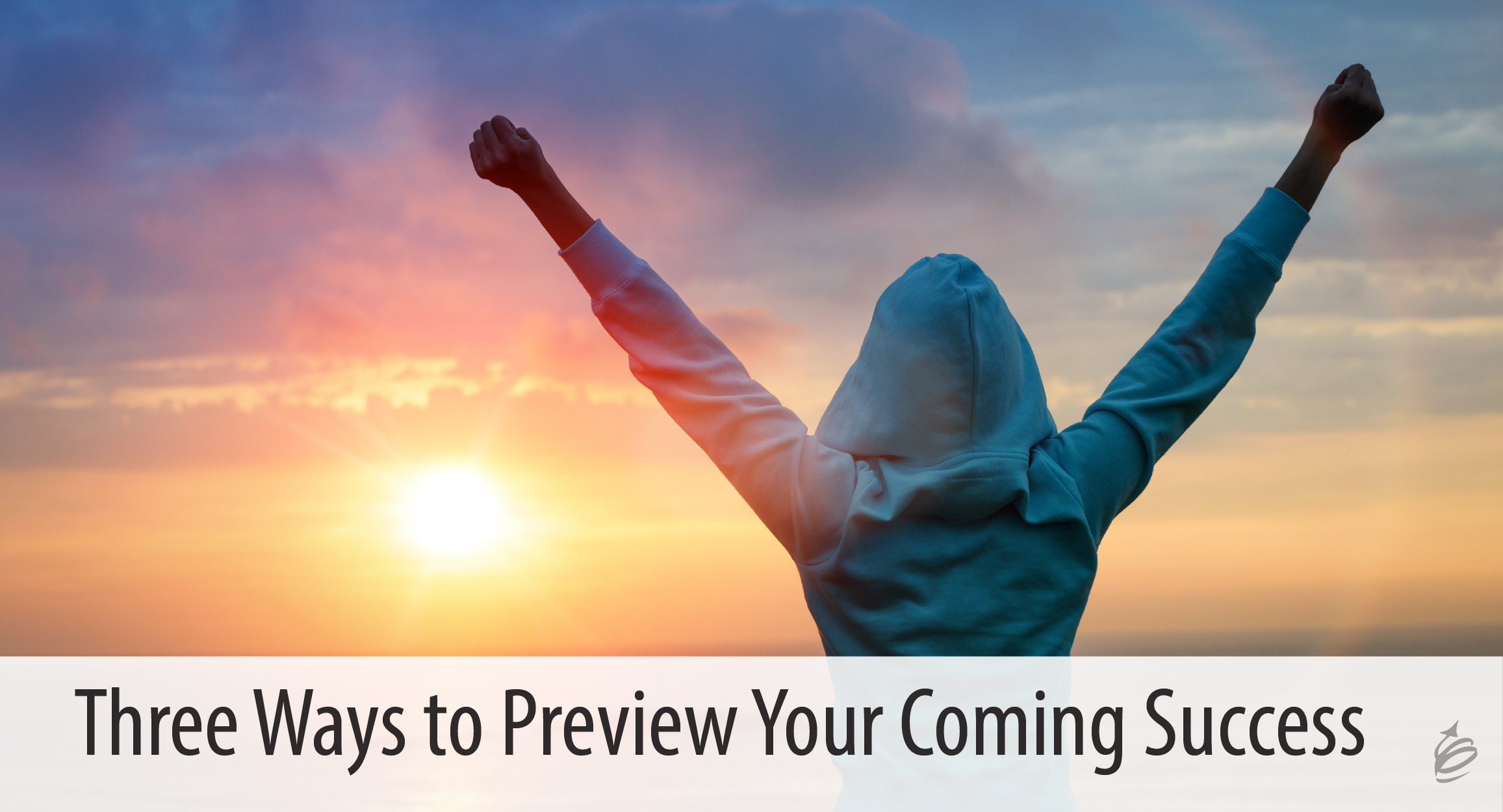 You may be wondering if the title is correct – am I really going to help you preview your future success? Am I going to give you a magical crystal ball or turn you into a psychic? No, no crystal balls (or Magic 8 Balls) will appear as a result of reading this article.
While there will literally be no psychic or ball, in a very real way, what I am giving you here is far more powerful and real, and I am giving you three ways to make it happen.
None of this will happen without first setting clear goals. Much has been written about goals and the importance of setting them (Click here to binge watch and read some of my thoughts). The purpose of this article isn't to convince you of the power of goals; suffice it to say, if you don't have any, the rest of this article isn't of much value to you.
Once you have your goals set (goals that are clear and meaningful to you), these three practices will help you see your success, and help move you towards the achievement of your goals.
Write Yourself a Letter/Email
After setting your goal(s), write yourself a letter. Imagine that you are observing yourself one year from now (or whatever the term for the goal's achievement is). Write the most glowing positive letter letting your future self know how proud you are. Describe the results of the goals achievements and how your life or work is different because you have achieved this goal. Be as specific and encouraging as you can be and make this a letter you would love to receive, because you will receive it.
If you want to handwrite the letter, put it in an envelope, address it and stamp it and give it to a friend and ask them to mail it to you on the specified date. If you don't want to involve anyone else, write this letter as an email and use your email software to select the future date to send the email to you.
When you receive the letter at a future time, you may be surprised how much of your goal has been achieved. Maybe the goal hasn't been reached yet, but that doesn't mean it still can't be. (Tweet That) If you have come up short, this encouraging letter may serve as a needed way to reinvigorate you towards the achievement of this goal or to adjust the goal based on the new realities of your world.
Create a Vision Board
A vision board is a way to visually see your goals being reached and to help you keep your goals in front of you. When viewed intentionally and regularly, they provide focus and motivation. These boards also stimulate the powerful visual part of your brain in ways that help your subconscious direct your decisions to be more consistent with the achievement of your goals.
There are ways to do this physically (imagine pictures, poster board, scissors, etc.) or digitally (using software). Either can work; pick what would work best for you. Whichever approach you take, make sure you move past the activity of creating it, but find ways for regular review and reflection – it is the ongoing activity that makes this powerful, and makes the effort of creating it worthwhile. While you can do your own research into creating these boards, here is a great place to help you get started.
Repetitious Mental Review
Athletes and other high-achievers use mental imagery to help them see themselves hitting the right goal shot, making the free throw or catching the ball. You don't have to be an athlete to use this approach, and it can be used for far more than the rehearsal for a specific task (though it can work great for things like an upcoming important presentation, for example).
Here I am encouraging the use of your full 3-D imagination to put yourself in a future moment, imaging the results of achieving your goal. Close your eyes and imagine what you see around you, where you are, what you smell and hear, who you are talking to, and what you are talking about. Make this the picture of the future you most want; use the power of your imagination to literally see, feel, smell and hear what your world is like when you have achieved the goal.
This isn't daydreaming – allow your imagination to work, but make it specific and focused on what your world and situation will be like when you have achieved the goal.
The more real you make this picture, and the more frequently you reinforce in your mind (and imprint it on your subconscious), the more powerful these previews will be.
This approach can be used at any time. This practice can supplement your review of your vision board, or be a powerful practice even if the idea of building a vision board seems daunting or isn't something you would see yourself doing.
There are many other practices that can help you achieve your goals, involving planning, consistent action and more. All these approaches will be helpful; remember, you must do more than think about your goals, but when you preview them in the ways we've just discussed, you are adding a missing ingredient to the recipe for greater goal achievement.
Use these practices for any sort of short or long-term goal. If you are doing them right, they won't feel like a chore, rather they will engage and inspire you, which is just one part of their power.
A final note: These approaches can, of course, be used by teams or groups as well as for individuals – if you are leading a team in any context, applying these practices will help the team be more successful and come far closer to achieving the goals than if these practices aren't employed.