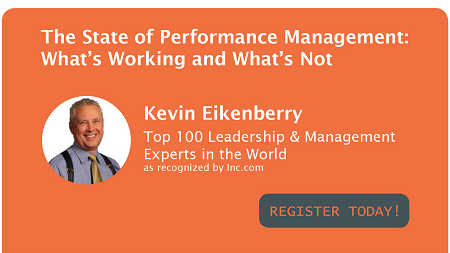 Performance management is something that likely happens in your organization, and…that doesn't mean it is going very well.
In fact, of all of the topics that come up when I train or speak to leaders, performance management is one that creates the most anxiety. And while that doesn't have to be true (there ARE things that can make these processes truly valuable for everyone), too often, sadly it is.
So last fall I wanted to quantify some of the routines, experiences, successes, and yes, pain, associated with performance management in organizations. From the results of that survey, coupled with my observation, experience, coaching and study, I've created this new complimentary webinar.
We sell webinars and teleseminars routinely, but in this case I want to share our finding with you and give you some solid next steps for yourself, your team and your organization. And there are two date options from you to choose from – here are those details:
Webinar: The State of Performance Management – What's Working and What's Not
Date #1: Thursday, January 28, 2016 (Live event with Q&A at the end.)
Time: 11:30 – 12:30 pm ET
Date #2: Friday, January 29, 2016 (NOTE: This is a replay of Thursday's event and while there will be no live Q&A, it will still be jam-packed with great information and tips you can apply immediately back in the workplace.)
Time: 11:30 – 12:30 pm ET
This is all for you and the future success for your team members, your organization, and you.
If you have challenges with performance management, or just want to gauge how you are doing compared to others, invest this hour with me.
I look forward to "seeing" you on this webinar. We expect it to fill up, so register early!