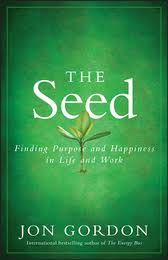 This week's Resource Recommendation is The Seed: Finding Purpose and Happiness in Life and Work by Jon Gordon.
Josh is lethargic and can't seem to muster much energy for his work anymore. This is so obvious that his boss offers him a two week paid leave of absence to determine if he wants to be there or not.
That is how the newest parable by Jon Gordon begins.
As with all of Jon's excellent recent books, this book is in parable format (see my reviews of The Energy Bus and The No Complaining Rule   – my two personal favorites). What sets Jon's books apart from many others in this popular genre is the quality of his writing — he tells a good story in an entertaining and flowing way. And, like the rest of his books, he tells a story to get the reader to think about a very important issue. In fact, while I'm not sure it is my favorite of his books, it is the best told story in my opinion.
The subtitle gives you a clue – "finding purpose and happiness" – doesn't everyone want to find these things? "in life and work" – better to find those things in both places, don't you think?
Through the adventures and lessons of Josh and his dog Dharma you will be challenged to think about your purpose — and if you haven't found it, you'll gain clues and insights on how to join Josh in finding your purpose.
This book is a quick and easy read, and it will likely have you thinking long after you finish.
 purpose, Jon Gordon, happiness, morale