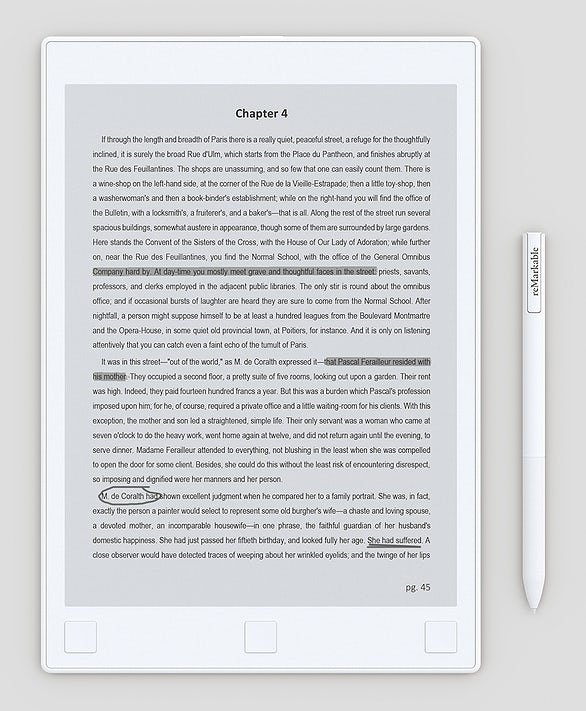 I don't usually write technology reviews here, and I don't think I've ever written about a Christmas gift, but today, I'm doing both. For Christmas, my family gave me a new piece of technology called a ReMarkable Tablet. Aside from the fact that the name is fitting as a gift for me, this is a piece of technology touted as a tablet for paper lovers …
I guess it is true that I am a lover of paper. I've been looking for a way to digitize my planning and organizing for years. I've tried many technologies to help me with this over the years, and I've generally been disappointed with the results.
Late in the fall, I started seeing online ads for the ReMarkable Tablet and was intrigued, but not intrigued enough pull out my credit card for a new product at the stiff price of $599. Apparently, my family loves me enough to pull out their cards.
So, at Christmas I received my tablet. I won't give you a long, technology review. There are a couple of those here and here. Rather, I will tell why I thought I wanted one, and how I like it so far.
What it Is
This is a tablet for writing and reading, and that is all it is. It is connected to the internet only to connect to the cloud to store your files (and therefore have access to them from other devices). Like a pad of paper, you can't surf the web, check your email on it or play games (well, since it is like paper, I guess you could play tic-tac-toe with a friend). It is black on white, so think pencil more than pen, but you can change the type, width and style of the ink to suit your preferences. It is very light and sleek, yet it seems to be a durable tablet.
It allows you to write on its surface, save that writing and access it easily in the future. If it sounds like an electronic journal, that is certainly what it can be. It can be used for sketching and more, but that isn't my purpose.
How I Use It (So Far)
I'm about 30 days in with this new tool, and I am mainly using it as a journal. One of the main challenges I have with standard journals is that it is hard to find information on a given topic. Yes, you can do indexing by pages, and that can help, and yes, you can add blank pages for topics that you expect you will add more to later, but none of that works perfectly for me.
The ReMarkable Tablet allows you to have as many notebooks as you want, all with access from the home screen. This makes it much easier to find stuff you worked on or wrote about days or weeks ago. I believe this feature will become even more valuable to me the longer I use it.
What I Like About It
I like that it really feels like I am writing on paper – I like the tactile feel. I like that files can be accessed from other devices. One day I left it at home, which I realized when I got to the office. While I couldn't add new items for a few hours on my laptop (or another device), I could reference my plans and notes. Try that with a paper journal sitting by your bed at home!
Final Thoughts
While I like this device (a lot) so far, I am not sure if it hadn't been a gift if I would spend $599 for it. I share it with you because it is cool, it is interesting, and I thought you would want to know about it. Everyone I have shown it to was interested, wanted to hold it and asked questions about it, so I thought you might want to know too!
As I continue to use it, if my uses or feelings change, I will update this post. If you are using one, please comment below and let others know what you think, and how you are using it.