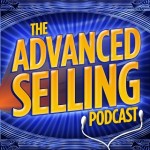 About ten years ago, two smart sales trainers and coaches based in Indianapolis decided to start a podcast. They called it The Advanced Selling Podcast. Tomorrow (Dec 14, 2015) will be their 342nd episode. It will also be the third time I have joined them as a guest.
They tell me I am their first three-time guest, and while I am honored, the biggest reason that is true is that during most episodes, there are no guests! The good news is that Bryan and Bill don't need help. They are smart, quick-witted and entertaining. They deliver on their promise of delivering relevant tips for sales people. And they go beyond the basics to the nuances, giving sales people and sales managers the edge they need to succeed.
So why did I join them?
First of all, because they asked; who wouldn't want to spend time with dedicated, smart and fun guys for a while? More importantly they wanted me to join them to talk about working remotely and leading remotely.
If you have interest in remote work, and especially if you are in the world of sales, I hope you will tune in to this episode. If you are in sales, you will want to listen to each episode! You can listen from their site, from their app, or subscribe from iTunes.
If you aren't in sales, share this post or the link to their blog with your friends who are in sales. They will thank you!