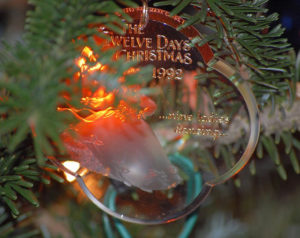 Today is the last of the "triple days" (i.e. 12/12/12) we will see for about ten years (2/2/22 is next I think).  So we have this triple day, and Christmas is coming.  Putting those things together, and borrowing the theme from one of my least favorite Christmas songs (The 12 Days of…), I've decided to put together a challenge/exercise/game for you over the next 12 days – we'll call it your 12 Leadership Days of Christmas.  Here's how it will work.
For each of the next 12 days (ending on Christmas Eve) I will post a daily question for you to think about.  Each question/post will only take a couple of minutes to read, but to get the value (and the gifts), you will want to invest a bit of time to think about your answer to the question.  So I'll write and post these, and your side of the deal is to invest 12 minutes each day. (Ok, it may not take 12 minutes, but the symmetry is hard to pass up.) In reality, some days might not take nearly that long, and some may find you thinking much longer.
Today, to prepare for this Dozen Day Game, I want you to think of 12 little gifts you'd like to give yourself (think, candy bar, lottery ticket, Kindle book, something small that would make you smile) and get at least of few of them on-hand. You will need the first one tomorrow. Then, each day after you read the post and answer the question, give yourself one of those gifts!
Those gifts are meant to be symbolic and meet our human need for immediate gratification.  The real gift that you are giving yourself by doing this exercise with me is the benefits you and your team will receive as a result of your thought, answers, and, in most cases, the action you will take.
That is it for today.  Come back to tomorrow for the First day…
….
In case you joined this party late, each day I will add one of the task/gifts so that eventually, they will all be listed on this page.
The 12th Day – The Gift of Change
The 11th Day – The Gift of your Ear . . . and Your Heart
The 10th Day – The Gift of Relationships
The 9th Day – The Gift of Feedback
The 8th Day – The Gift of (Delighted) Customers
The 7th Day – The Gift of (Other) Focus
The 6th Day – The Gift of Creativity
The 5th Day – The Gift of Meaning
The 4th Day – The Gift of Questions
The 3rd Day – The Gift of Accountability
The 2nd Day – The Gift of Improvement
The 1st Day – The Gift of Goals