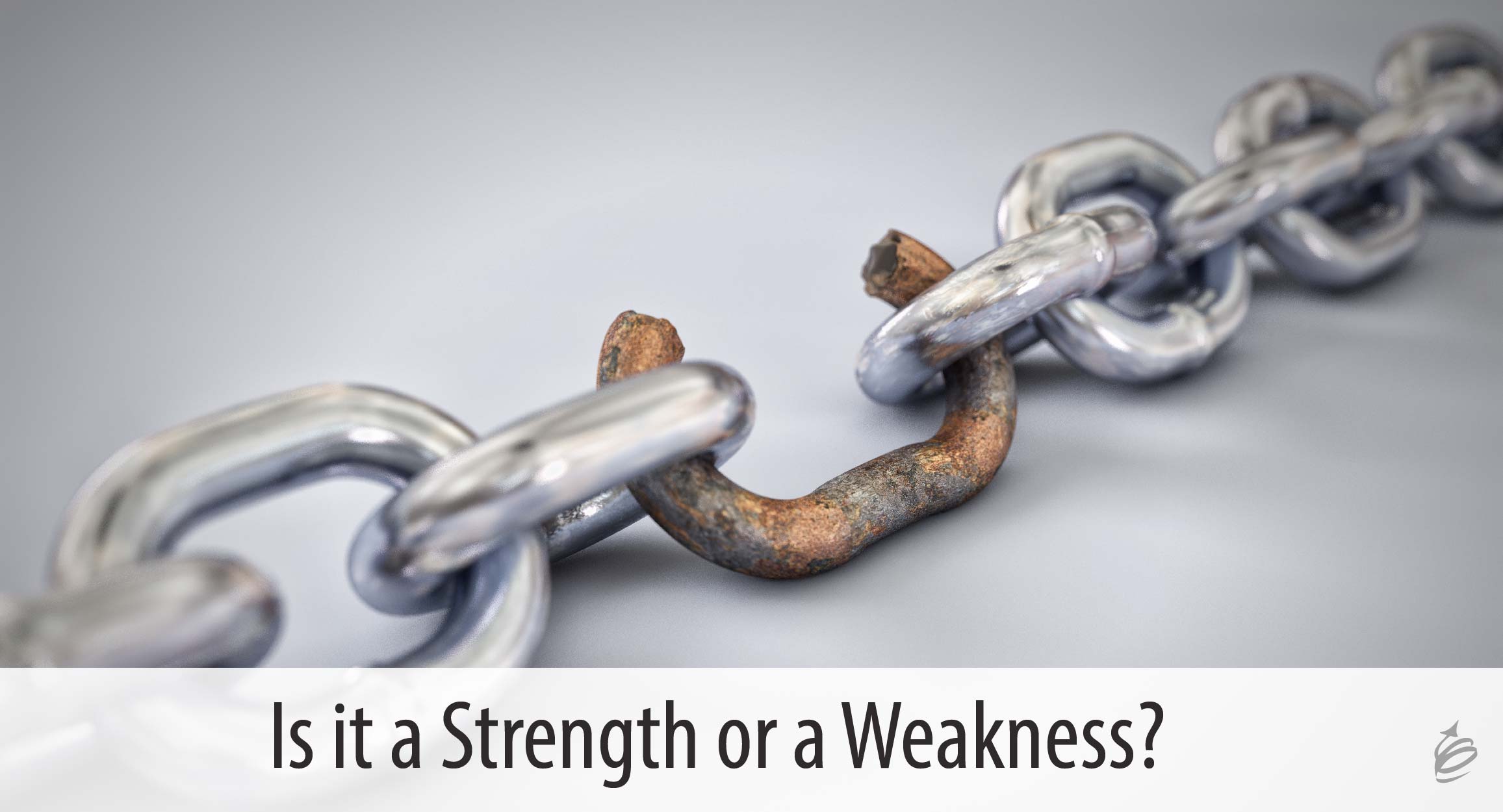 There is much talk about strengths and how we should play to them. The wisdom is learn about your strengths, and once you know them and use them, you will become more effective. This is a fine approach, and while I agree with it in general, there is a problem. A problem that might be bigger than we realize. The problem is exposed when we realize that there is a flipside to the strengths coin. Yep, we have both strengths and weaknesses.
Let me tell you a story.
Many years ago, on the way to lunch, an obviously upset friend asked me if he was stubborn, explaining that someone had told him that a few minutes earlier.
Rather than immediately answering him, I paused and asked a question instead. "Do you think you are persistent?"
His immediate response was "Of course."
After a brief pause, he hit me on the shoulder and said, "Stubborn and persistent are the same thing, aren't they?"
Is it a Strength or a Weakness?
So, are persistent and stubborn the same thing?
Pretty close.
If I told you someone was stubborn, would your first thought be positive, or negative?
But if I told you someone was persistent, would your feeling be different?
I bet I know your answers. In fact, persistence is often listed on researched lists of strengths, but I doubt you would ever find stubborn on a similar list.
So what is the difference between them?
Timing, amount, and context, mostly – and the perception of those viewing the behavior.
So "persistent" is a good trait, but used too often or used (as perceived by others) at an inappropriate time or place, and it becomes "stubborn."
Suddenly, strengths and weaknesses aren't quite so clear-cut.
So What?
Here is a practical principle to remember: a strength overused can be a weakness.
This means that when looking at the results of a strengths assessment or when applying feedback from others, we must be careful. If you get too excited, proud, or even smug about a strength, it could cause unintended consequences.
This doesn't imply that we shouldn't understand our strengths. It just means that we must put them in a bigger and more complete perspective before using them as the basis for how we interact with others or lead.
Now What?
The idea of strengths vs. weaknesses can be useful to you as an individual, or as a leader. Here are some ways to use this insight in both situations.
As an individual you can . . .
Make sure you understand your strengths (make a list and ask others for their input).
Ask others what they see as your strengths.
Think about the risks associated with over-using those strengths.
Identify specific situations where you over-use a strength (again, asking others can be helpful here as we might have a blind spot in this area).
Make sure you understand your weaknesses (again, make a list and ask others for their input).
Think about how your weakness can be a strength.
With these new insights, make an improvement and growth plan based on a balanced focus on both strengths and weaknesses.
As a leader/coach you can . . .
Help your team members understand their strengths and weaknesses, using an assessment or the process I suggest above.
Examine your own perspective and the labels you use to describe your team members to make sure you are truly seeing people's strengths as well as weaknesses.
Help your team members do the other steps listed above – leading to a plan of action for maximizing strengths, as well as working on weaknesses.
Taking this balanced approach will give you (and others) a more accurate view of how they operate in a given situation and can be a great way to focus your personal and professional improvement efforts.
…
We cannot become our best as a leader unless we have an awareness of our strengths and weaknesses. This is just one truth that sits underneath any success in leadership development. I've created masterclass and will we be releasing it as a video series titled, The Journey to Remarkable Leadership. It is created with our compliments to help organizations think about the whys and how's of developing leaders in the real world. Register now to get immediate access when it is released.