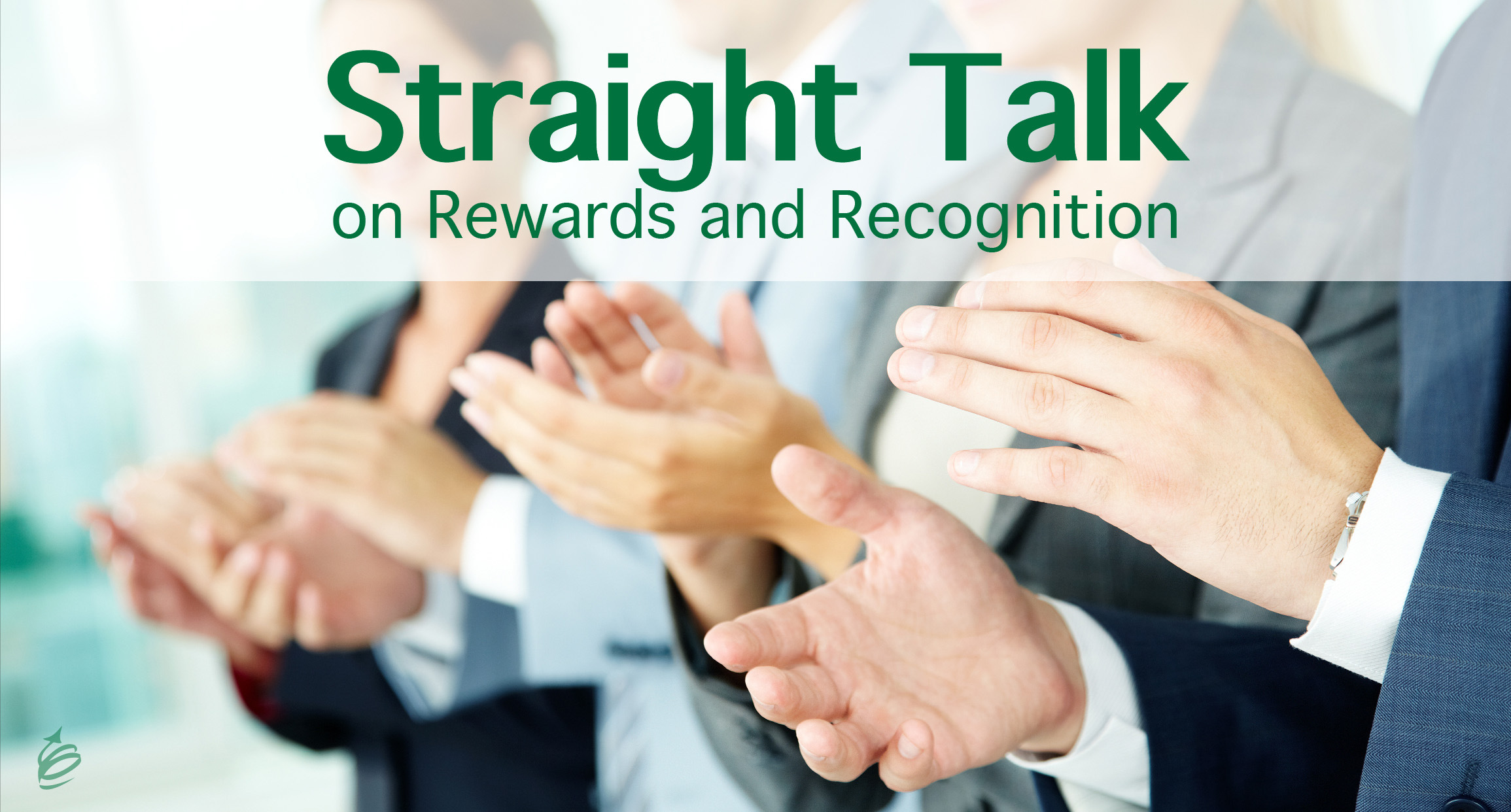 Rewards and recognition is a topic often discussed at HR conferences, in leadership workshops and anyplace where leaders congregate. It's a big business and the topic of choice for many speakers, trainers, consultants and authors.
Type in Rewards and Recognition into Google and you will get 89,200,000 results.
So here I am, another consultant, speaker, trainer and author giving you my take. It won't be glossy or flowery and you might not agree, but as the title says, I'll give it to you straight.
Here we go.
Rewards and recognition, while discussed in tandem frequently, aren't the same thing. Perhaps the underlying purpose is connected – to reinforce the behaviors and results that are needed by the business or organization – but they are not the same thing. A reward typically is something extrinsic, and recognition is something intrinsic. While done properly for certain people, rewards could also be recognition, that doesn't change the fact that they are fundamentally different things.
Too often rewards don't really reward the right behaviors or results. The whole point of doing these things should be about reinforcing the behaviors and results you want. If that were the case, why are bonuses often not tied to results? And if that is the case, why do I hear leaders lament that the bonuses are seen as entitlements (i.e. part of the salary) rather than incentives or true rewards? It isn't about making people happy, or not rocking the boat (by changing it), or trying to get people to like you. Whatever you want to recognize or reward, make sure it is related to behaviors and results that will make a difference for your organization.
Rewards and recognition programs seldom work (very well). Why? Because it is a "program"; which means, unless it is very well-articulated and all leaders understand what it is really about, it is either ignored, misused, or used in a one-size-fits-all way. In any of those cases, while it might work for some, it isn't getting the outcomes it was designed for; and may have unintended negative consequences.
It's not just about money. Yes, we all like money; and at some level we all need money. But if your whole rewards program is about money, or you think that since you don't have any money to give that you can't do anything, you are misguided. Money is a powerful motivator for some, but not for all. And even for those that say it is all about the money, it rarely is; it is often not about the money itself, but the prestige, pride and competition of getting the money, more than the money itself. If you make it all about money, for most people, most of the time, you are just taking the easy way out, and not even getting what you really want anyway.
Recognition is likely more important; and too often overlooked. So far I've mostly been talking about the extrinsic, rewards piece of this puzzle. That was intentional, because that is where most leaders take this conversation. Which means that people feel the extrinsic piece is more valuable or most important. As humans, we value both intrinsic and extrinsic motivators; don't assume all that matters are rewards.
If people say they don't need recognition; don't believe them. People may not be used to getting it; may have succeeded without much of it; may not know what to say or do when they are recognized or given positive reinforcement/feedback. And due to our differences as humans, not all of us want it in the same amounts. But everyone likes to know that what they have done has made a difference and that their contribution created a positive result. Yes, they may see that themselves and derive self-satisfaction from it; and when they hear that or get validation of it from others, it is music to their ears.
Now What?
OK, so there are some of my thoughts. If you agree, or even if you don't completely agree, here are some things you can do to reach your real goal which is to reinforce the right behaviors and results, both in the past and to support them happening more in the future.
Real recognition matters. Tell people that what they did matters. Be genuine and real. Do it regularly. Write them a note. Think about this question: who is the leader you worked the hardest for and got the best results for – the one who gave you the biggest bonus or the one who you knew truly valued you and your contribution? Real recognition will make a difference; so give that gift to others. (Tweet That)
Give people what they will value. Know your team members well enough to provide what will help them most. If recognition, what kind and in what way? If rewards, what type? If you have a "program", use it to customize for individuals as much as you can. The more you personalize this, the more valuable it will be to the individual, and the more it will have a positive impact on their results both short and long term.
Don't take the easy way out. The easiest way to do this is to write the check, give the bonus, and assume it will work. My biggest advice is to think about why you want to use rewards and recognition and be intentional about how to use them to get those results. That thinking may lead you to new decisions, and better results.
The Best News
The best news is simple. You can do what will work, regardless of where you sit in the organization, what your organization's program or culture (and yes, even if you don't have a budget). There are ways to encourage, influence and inspire greater performance and greater results, and that ability to influence lies with you.