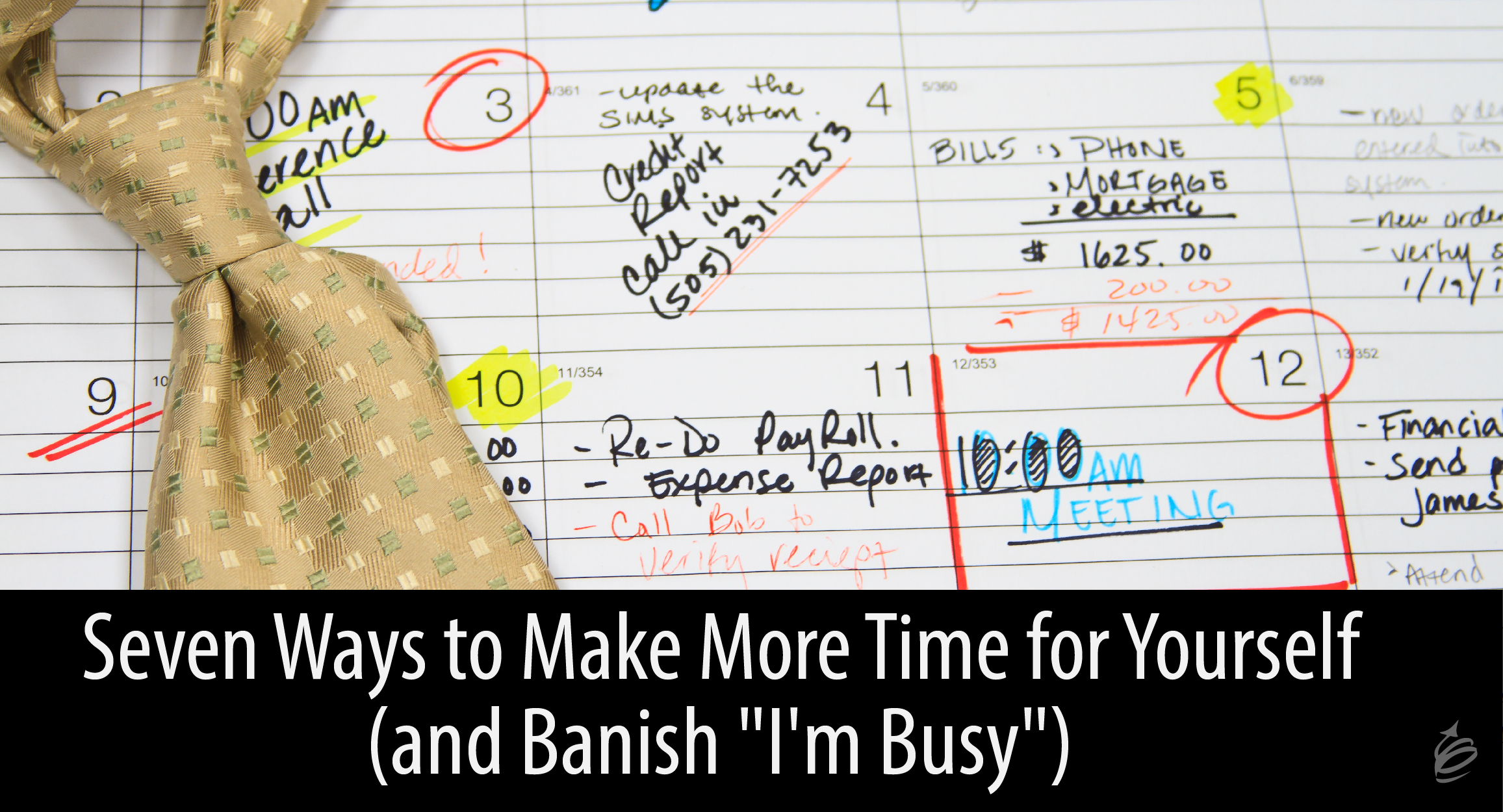 Ok, I know you can't literally make time. We all have the same 60 minutes per hour – a total of 1440 minutes each day. Yet you don't have to look very hard to realize that some people achieve far more than others, and those same people are often calm and at peace, too. You could ask them, "How do you make time for yourself?" and if you asked enough people, you would find some commonalities. If you want to make more time for yourself, consider these ideas.
Ask for Help
Repeat after me: You don't have to do it all yourself. Whether that is asking someone to help you figure out your challenge with technology, asking for some help with the research you need for the project, or holding the bag for you when raking leaves, asking for help can literally create time for other things. Yes, we need to reciprocate (or you won't get help forever), and yes, this requires you let go of some control, but isn't getting some valuable time back worth it?
The corollary to this is to delegate. If you are a leader (or parent), you may want to think about delegation, which can help you create more time for yourself and have other benefits, too. I've written much about this topic, and you can find what will help you here. <- https://blog.kevineikenberry.com/?s=delegation
Turn off the TV
I don't know how much of it you watch, but if you watch any and are looking for more time for yourself, this needs to be on the list. I don't think TV watching is the devil's work, or anything like that, but you likely can be more intentional about how much and when you turn on the TV (or your computer for all you streaming fans).
Turn off Social Media/Put Down Your Phone
While much is written about the ills of social media to our psyche and attitude, I'm staying with the pragmatic here. You likely spend more time on social media or your phone in general than you realize or even want to. Maybe the TV isn't your issue, but you may be losing that same 30 or 60 minutes of watching time by scrolling, posting, liking, and commenting instead.
Would you like 30 minutes of time for yourself to work toward a goal, solve a problem, or take a bath? If you put down your phone, turn off the ringer, and put it in another room for 30 minutes, will your world end?
Sleep Less
Some will say get up early, and others will say stay up later. Either piece of advice shifts more of your 1440 minutes a day to conscious time that you can use for a new purpose. Pick the choice (get up or stay up) that works better for your body clock and that matches best with how you want to use this "found" time. Here are two pieces of advice:
Make these adjustments slowly. If you are looking for 30 or 60 minutes more awake time, add it in 10- or 15-minute increments.
If you aren't sure whether to get up earlier or stay up later, pick get up earlier – especially if you are looking for more time to be productive or do more planning.
Schedule (and Block) Your Time
One commonality for the most productive people you know is that they work from a calendar. If you want to make or find more time, work from a schedule. Most people "lose" time in their day because they haven't planned their day at all. When you use a calendar, you can block time to work on specific projects or tasks. Once you have planned and blocked time to work on a task, you improve the chances you will work on that thing at that time.
Some people think blocking time is counter-productive because they want to be flexible and work in the moment, but those people almost always are busy and frantic. Is that your goal?
Plan Ahead
We could talk at length about planning your time and blocking your calendar, and while that is important, I am making a more tactical suggestion here. The fact is that things will go wrong. You will have to wait when you don't expect it. Time can be found in small windows, if you use those windows wisely. (Tweet that) How do you take advantage of those small windows?
Carry a book – read in those 5-10 minutes.
Carry a pen and paper – make a list, do some planning, or make a decision.
Make a call – if you have a list of things to do, and make that call now, you have given yourself five minutes later.
Don't pick up your phone and idly scroll, play, or zone out. Was that the best use of those five minutes?
Say No
I started by encouraging you to ask for help as a way to make time for yourself. That may be hard for you, but may be the action that will make a difference. If you learn to ask for help, you must be willing to reciprocate. Saying "No" doesn't mean becoming insular, a loner, or selfish. Saying "No" means being clear on what you can do, and what you might not be able to accomplish. For many, it is hard to say no to any request. If that is you, practice saying no to small things, and you will notice that some time for yourself may show up for you.
Some Final Observations
Here are some final thoughts.
Not multitasking. Notice I didn't say to multitask. While it is a myth that we can do it at all (we actually switch-task), even if we try, the productivity we think we are gaining is an illusion. Besides, even if we got more done, does it add peace and calm to our lives?
Intentional choices. All the ideas above require intentional choices. We are talking about changing our habits to find more time for yourself. Until you make new choices, you will live in a world of your current habits. Time management is choice management.
The other benefits. I've hinted at it, but I want to make it explicit as we close. Making more time for yourself will help you be more productive, but also less stressed, calmer, and likely happier. The ideas here are about more than productivity. The by-product of find more time for yourself is greater peace of mind.