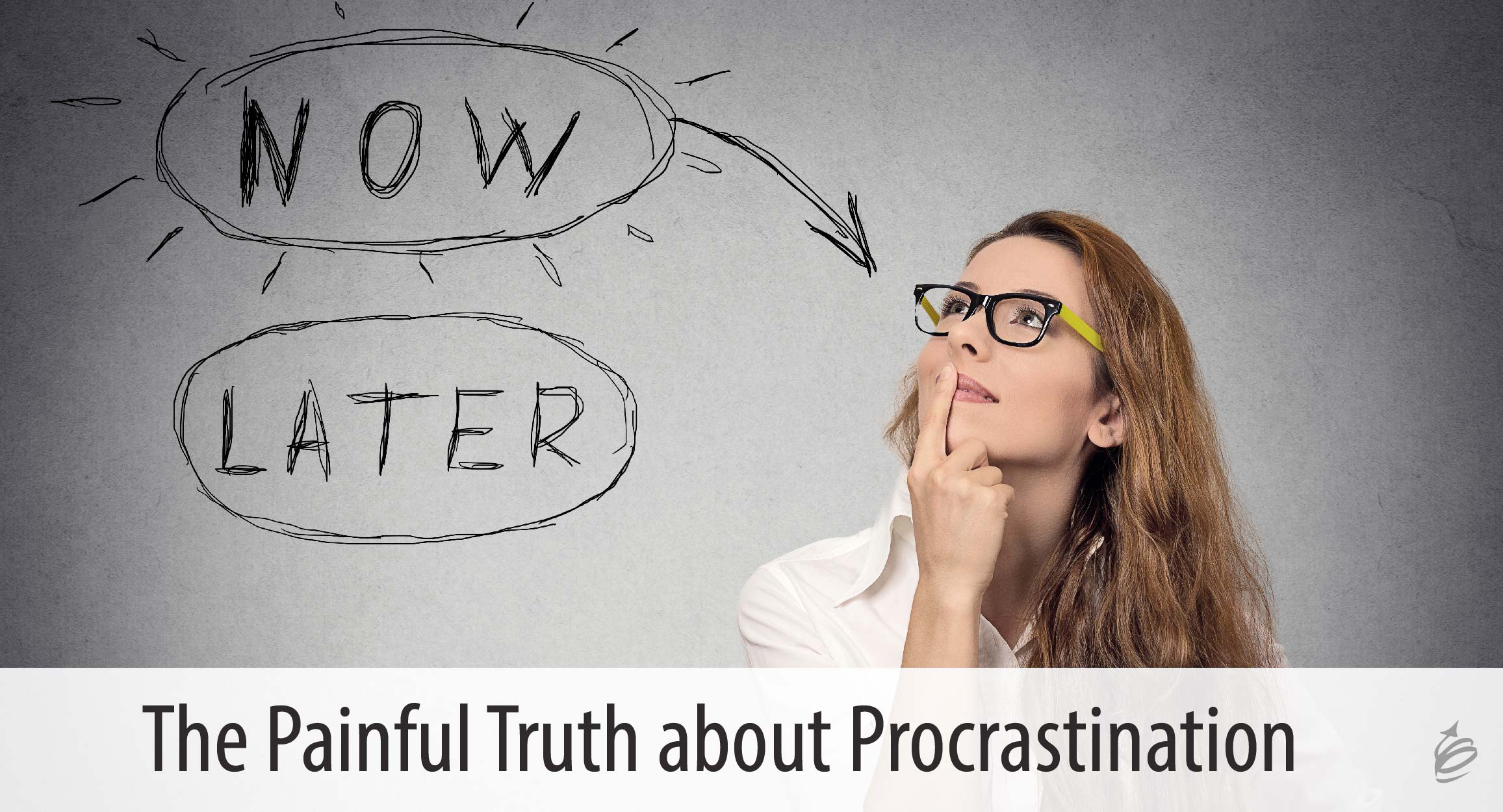 Procrastination.
If you were to tell me you've never done it, I would question other things you say too. Granted, not everyone procrastinates in the same way or to the same degree. Yet procrastination is something everyone does. In my experience, there are some key truths about procrastination that we don't know or don't acknowledge. Once we do, we hold the key to changing the role procrastination plays in our lives and how much it impedes our progress and success.
Before I go too far, let me say this: The point of this article isn't to shame or guilt anyone. Rather, it is meant to illuminate some things to give you better understanding of your current behavior. Regardless of how you feel about the ways and impacts of your past procrastination, the focus here (and for you) will be about what to do in the future – which is he only thing we can change anyway.
The Truth about Procrastination
While there are a variety of reasons people say they procrastinate, often the root cause is one thing.  It won't be the first thing anyone will say, and some may not even recognize it.  But consider this as the root cause of much procrastination:
Fear.
Fear of the unknown – I don't know how it will go, so I wait.
Fear of process – I don't know how to do it, so I don't start.
Fear of failure – if I do this and fail, then what? It is easier to put it off.
Fear of falling short – this is an important task. While I might not fail, I'm not sure I will do it well enough (we call this perfectionism).
Fear of success –  I am not sure what it will look like if I succeed, if I don't do anything, I can stay in my comfort zone.
Any of this sound familiar to you?
If it does, it might be painful, but it is also good to know that you aren't just "lazy."
Now What?
No one likes to admit being afraid, and yet if you recognize what is holding you back from acting, you have taken a big step towards curbing your procrastination.  Here are a couple of things you can to if you want to reduce your procrastination in general or attack a specific task you have been putting off.
Determine the cause. Chances are I have identified some of them but think that through for you.
Decide if that cause is valid. Once you determine your fear, you can ask yourself if it I more important than making progress.
Make a plan. If what you are procrastination about is a bigger task, make a plan.
Take a small step. By starting small you make it easier to get started and you build the power of momentum.
As a Leader …
Hopefully this was helpful for you, and chances are you have team members who are procrastinating as well.  As a leader you help them with their struggle by being a role model of taking action, and by using these same strategies to coach them through their own procrastination challenges.
What are you procrastinating on today?
Is it really that scary?
…
We cannot become our best as a leader unless we master how we invest our time all day long. This is just one truth that sits underneath any success in leadership development. I've created masterclass and will we be releasing it as a video series titled, The Journey to Remarkable Leadership. It is created with our compliments to help organizations think about the whys and how's of developing leaders in the real world. Register now to get immediate access when it is released.