By Tim Harford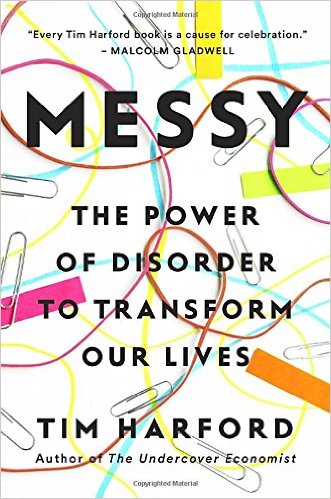 One look at my desk at Remarkable House and you might think – "Yeah, this guy needs to read the book titled 'Organized' rather than one titled messy."
And if you saw my office desk right now, you would be right.
The author of this new book might disagree, as his premise is that in the search of order, in many situations, humans are taking this too far – and that some amount of clutter or randomness might actually help create better results.
That premise likely feels like good news to some of you, and to others, it might make you bristle at the thought of clutter. Whichever group you fall into, I have two comments:
This book is about (far) more than a clean desk.
Regardless of your need for and sense of order, the ideas in this book are valuable for all of us.
Specifically, the book looks at the value of some disorder or "messiness" in nine areas:
Creativity
Collaboration
Workplaces
Improvisation
Winning
Incentives
Automation
Resilience
Life
Each chapter is interesting, with fresh examples to illustrate the points. In some chapters, I found myself agreeing with and already understanding the value of a mess, in others I found new insights.
Overall, this book provides great ideas and food for thought. That food for thought comes in an easy and fun to read approach.
Regardless of the state of your desk, email box or filing system, this book is for you. It deals with organization (and the lack thereof) in many areas of life and work and gives us new perspectives throughout the journey.