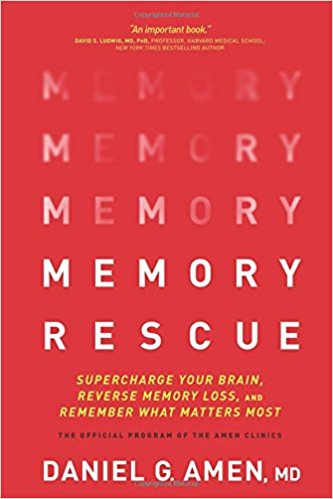 by Daniel G. Amen, MD
For some, memory loss is a punch line, or even an excuse. But for many, thinking about dealing with memory loss and the afflictions associated with it represents one of the scariest visions for their future. If you fall in the second category, you may want to read this book.
Written by an MD who founded the famous Amen Clinics, this book takes a deep dive into brain function and why memory loss happens, and then happily provides tangible and specific steps to stop additional losses and even reverse some of those losses.
Yes, the title Memory Rescue isn't hype – the author, through his research and many real case examples, provides a hopeful picture for many people. The book explores the risk factors through their BRIGHT MINDS mnemonic:
Blood Flow
Retirement/aging
Inflammation
Genetics
Head Trauma
Toxins
Mental health
Immunity/Infection issues
Neurohormone deficiencies
Diabesity (diabetes, prediabetes and obesity)
Sleep issues
The book tackles each of these risk factors, explaining them and more importantly talking about what can be done in relationship to them.
Because this book is written by a medical doctor, it often recommends seeing your doctor for check ups (and more), and of course the examples use patients from their clinics. Solutions and preventions recommended are varied and extensive – in fact, one of the challenges with the book is the pure number of recommendations.
This isn't light reading, but for me, it is fascinating. I have made some adjustments to my diet and habits and will be making more because of reading/studying this book.
If the topic is interesting to you – for yourself or others in your family – I believe you will love this book. If you are like me, it will give you understanding, practical actions to take, and hope if memory loss worries you. If you are looking for a breezy understanding, this isn't the book for you.
I plan on using it as a reference guide for myself – and you may find it valuable for the same purpose.