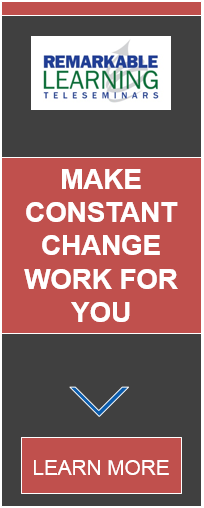 Change is all around us.
Especially at work.
And there is plenty of research (as well as personal experience) that shows that if there is too much change and uncertainty in our world, we tend to shut down; become more stresses and frustrated – and less productive.
Yet, we want and need to do more than survive change; we want to thrive during and after it.
Since change isn't going away, doesn't it make sense to learn more about how to use it to your advantage, rather than it becoming a millstone to your performance and sanity?
If you are still reading and are experiencing significant change; change that you believe is (or may in the future) negatively impact your performance, this teleseminar is for you.
Enter Mary Schaefer.
As the principal of Artemis Path, she is an expert in empowerment and creating positive, functional work cultures, and has helped organizations of all sizes – and the people in them – thrive in changing times. She will bring practical ideas to you in just 60 minutes – 60 minutes you can spend comfortably in your office or wherever you have a phone or computer.
As with all of our teleseminars, while you can take advantage for yourself, you can also bring a group or team together to share the learning experience. Your single investment allows for as many people as you want to include on one phone line (or you can buy the recording and share across your entire organization!)
Mark your calendar now for December 15 from 1:30-2:30 pm ET. All of the details and your chance to register can be found here.
As you look to 2016, it is likely that you see much change ahead. Why not prepare yourself and your team for the change that you know is coming, so that you can be more effective and productive through those changes?
This session will help you do exactly that!