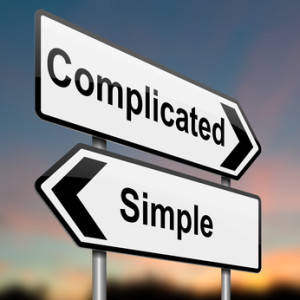 The world seems to be a pretty complex place – and getting more complex all the time. Today's quote is one that I remind myself of regularly.
"Make everything as simple as possible, but not simpler."
– Albert Einstein
Questions to Ponder
– How complicated is my life?
– How would my experience be different if it were simpler?
– What step could I take to simplify my life today?
Action Steps
1. Make simple your goal today.
2.  Find one message you need to communicate and make it simpler.
3. Find one way to make your personal life simpler.
4. Reflect on those choices – and results – at the end of the day.
My Thoughts
As I said above, I've been a fan of this quotation for many years, and I chose to share it here today for a variety of reason. Simple, but simplistic. It is a motto for my writing and something that I work hard to achieve. It is a valuable objective as a communicator, in writing and verbally. It is a valuable objective as a leader, as we help our teams sort things out, see the big picture, and prioritize, and it is a valuable objective personally as well.
As I look at my desk right now, I know I am not living this objective. And I know that when I clear, and simplify, my results improve. This is just one area where I am not living this quotation.
Here is what I  know – if you (and I) ask the questions and take the actions I've written above, we will be more effective and successful. We will also be happier and healthier.
Will you join me in working toward Dr. Einstein's goal?