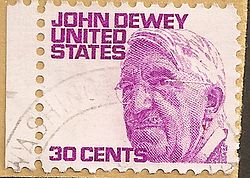 The famed psychologist and educator John Dewey (hey, he's on a stamp) once wrote:
"Education is not a preparation for life; Education is life itself."
Questions to Ponder
How do I view education?
What do I do to educate myself?
Action Steps
Learn something new today.
Repeat that action tomorrow.
And the next day (and forever).
My Thoughts
This quote seems timely as it is "back to school" season.  Dewey of course would have found the phrase "back to school" odd – as his view is that we are always learning.  His work as an educator led him, I'm sure, to defend education.  In fact much of his prolific writing was about reforming the way children are educated  (you can learn much more here).
One of the best ways, perhaps the most consistent way, to create a more satisfying, rewarding and successful life is to learn something everyday.  Dewey reminds us of this in his quotation.
Are you living this truth in your life each day?