W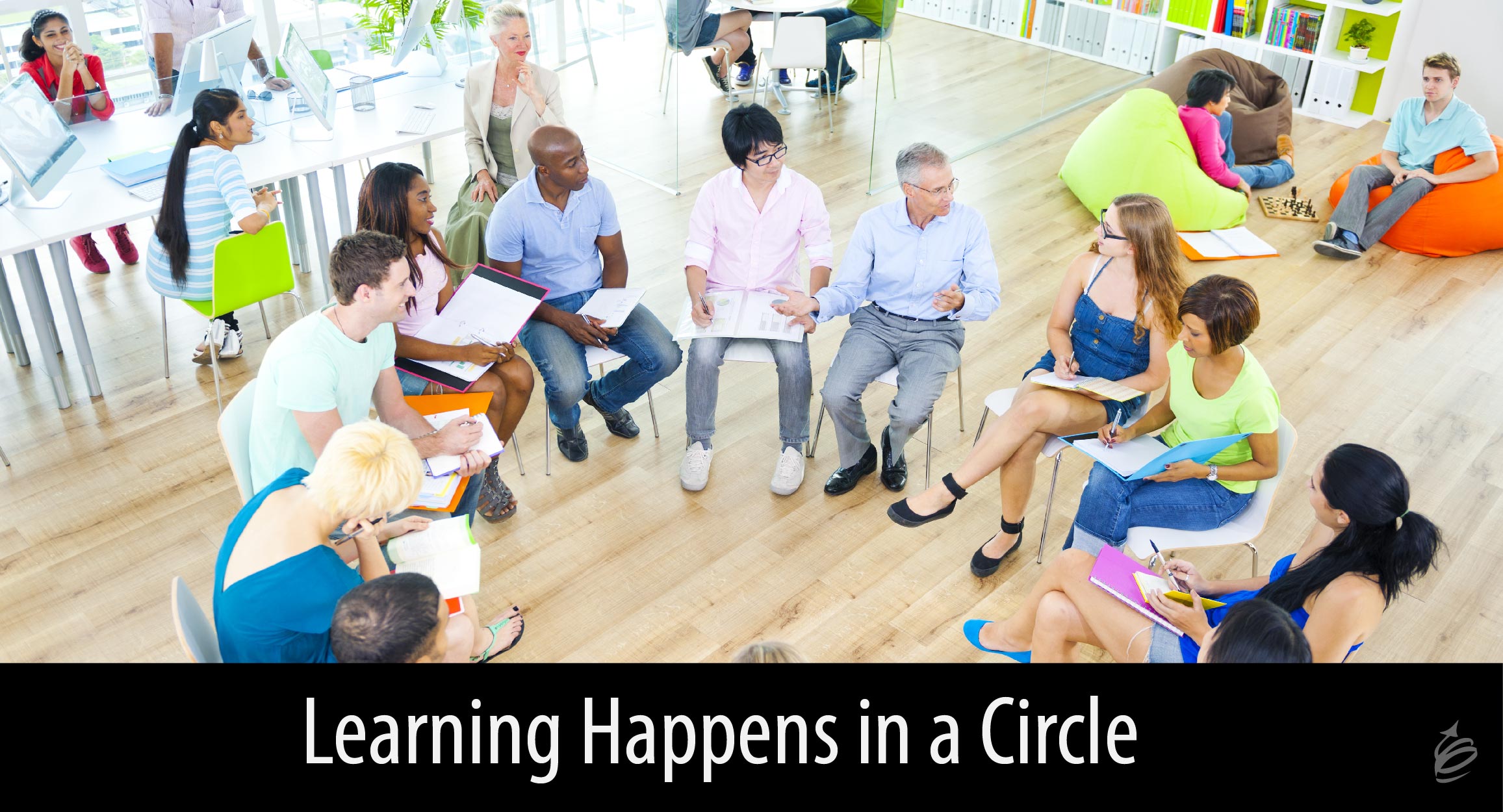 We are all familiar with the traditional school experience. Let's call it learning in rows. The teacher stands in the front of the room and lectures, relays, or shares the information to the students as they sit in rows. It is in many ways efficient, and depending on what is being taught, it can be an effective approach. Yet with all due respect for the educational system, the complex things most of us need to learn as adults can't truly be learned in rows. This level of learning requires coaching, mentoring, and conversation – in other words, learning in a circle.
What Learning in a Circle Looks Like
I first heard this phrase from my pastor, Aaron Brockett, in a sermon a couple of months back. I've been thinking about it ever since and have determined that in four words – "learning in a circle" – he clearly described a concept I have believed and tried to model for many years. Here is what learning in a circle looks like.
All Teach, All Learn
When we bring our life experiences and perspectives to a group, we are prepared to be both a teacher and a student. Rather than bringing the students to the mountain to sit at the foot of the expert, learning in a circle puts everyone on equal footing, all willing and all prepared to share what they know, as well as what they are questioning.
As a practical matter, when we teach something we know, we learn it more deeply than before. When we create a space, opportunity, and expectation that everyone does that, magic can occur.
Conversation
Thoughts are clarified in conversation. New ideas emerge in conversation. We create insights through  conversation. By moving from "I teach, you listen" to "Let's explore this together," we are learning in a circle. Yes, there may be a role for someone to set the stage, to provide a process or some initial knowledge. And when that information sharing mode ends and a conversation begins, deeper learning can occur.
Questions
How do you get to a conversation and learning in a circle? By asking, not telling. Socrates taught us that long ago. And while we all know the importance of questions to stimulate and extend a conversation, and that questions often hold the key to learning by encouraging us to think… we don't do it enough. Learning in a circle starts with earnest, open-ended questions and doesn't stop until there are answers, and perhaps even more questions.
Thinking
Learning in a circle is an engaging process – it is hard to be an active part of an effective conversation without thinking about what you are hearing and thinking about what you are going to say! When we are engaged and thinking we are much more likely to be in a learning mode, compared to the risk of being passive when learning in rows.
Discovery
The most powerful learning are the things we learn through discovery, not what we are told by someone else.  When we are learning in a circle, we have a much better chance to discover things (and help others do so as well). More aha moments will occur when we are open and exploring a topic with others than when we are only taking notes from our seat.
Final Thoughts
In watching my kids go through their K-12 education, I believe that world is changing in the direction of circles. There is more and more team learning, interaction, and practical application. It is good to see that happening, and it is important that we all move faster in that direction. We continue to strive to create learning in circles in our work too.
If you are serious in your desire for deep learning and growth as a leader, I encourage you to explore and apply to be a part of The Remarkable Retreat – an event that I will design and facilitate, and will truly be a model of learning in a circle.