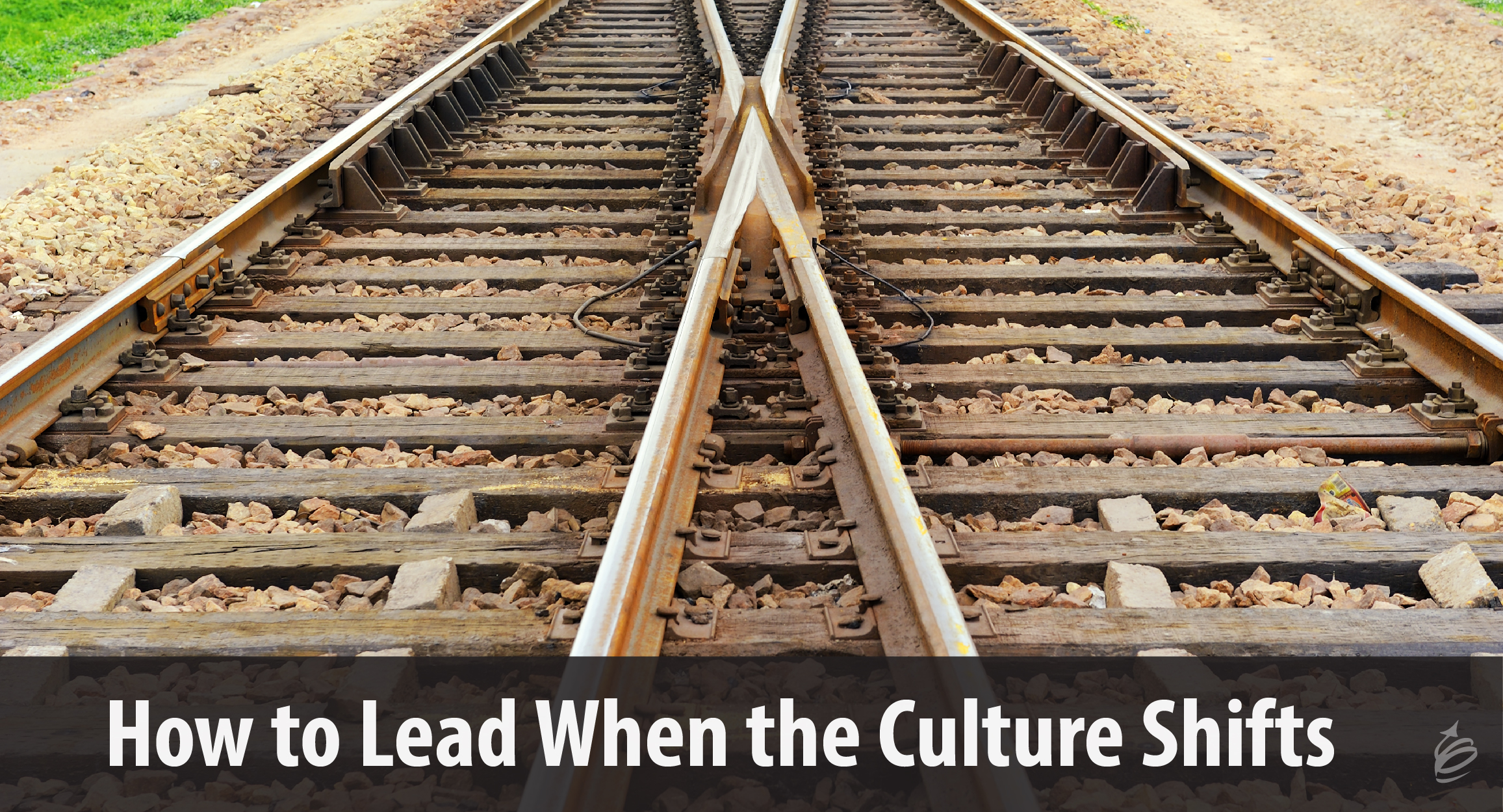 Sometimes I am asked questions in an email, in a workshop or after a keynote that cause me to pause and think before answering. Sometimes it is because I don't really understand the question or context, and while that is partially the case this time, sometimes it is because the answer is significantly complex. Both are true in the case of the question summarized by the title of this article.
On the surface, you might not feel this applies to you; even if you feel that is the case, please continue reading as I believe you will find more connection than you might have thought. I am going to broaden the topic just a bit to explore two, related questions.

What do I do when I am a leader in place and the culture around me changes?
What do I do when I join an organization or team whose culture is different than what I am used to?
These are big questions, and what follows are five questions to help you answer those questions. They are meant to get you started and to get everyone not immediately in these situations to be thinking about the role culture plays for them in their work as a leader.
But before we start; let me give you my definition of culture – since this is one of those consulting words that gets written about by people like me, and mentioned at dinner parties when people want to look smart. Organizational (or team) culture is simply "the way things are done around here."
Now, let's look at my five suggested questions.
What is the "new" culture?
If the culture is new to you – either because of a force inside of your existing organization or because you have arrived into it – stop. Take some time to listen to and observe those around you. Start to understand what the new culture is. Make a list of the things that are the same, as well as the things that are different. The discipline of stopping to think about and observe what is (really) happening will clarify what you are feeling and why. The differences may be significant, or they might be much smaller, and easier to adapt to.
How is it different from the "old" culture?
Doing the exercise suggested above will help you answer this important question. It is the differences that matter, and perhaps they will be smaller than you initially thought. Regardless, once you can define those differences, you are in a much better position to deal with or adjust to them.
How can you make this a topic of conversation?
If you are feeling this, others likely are too. If the change came from the outside and impacted everyone, make time to talk about what others are thinking and feeling. Share the results of your exercise above, or do it with the group. You may not be able to change the changes you are facing, but giving people a voice and a forum to discuss it will be very helpful. If you are the outside force coming in, have the conversation with others to help you even better understand "how things work around here," so that you can understand and acclimate.
Can we (and do we want to) alter the "new" culture?
Once you understand the culture, this is an important question – it will help you answer the second part of the question – do we want to change it or not? As for the first part, chances are you can alter it, at least in small ways. If you are part of a larger organization, there are cultural realities, and there is always a sub-culture within your team. You likely have more influence on the sub-culture than you realize, so if you and/or your team feel the need to alter it, get to work. (And if you want more help with how to alter it, put that in the comments below. If there are enough comments, I will write about it in the coming weeks.)
Can I work in this new culture?
If you are now living in a new organizational culture, and you have done the work described here to really understand what it is, then you need to ask this question. In my experience, most often the answer will be yes – some adjustments may be required, but that is really all that is necessary. If, however, the culture you are now living in doesn't work for you in terms of your values or approaches to work, it is your responsibility, for yourself, your employer and your team to change it, or move on.
I hope these five questions help you think about your own answer to the initial questions I asked. Perhaps most of all I hope this prompts you to think about how you, as a leader, regardless of your level, can positively impact the culture – the way things are done around here – for yourself and those you work with.