By William George Jordan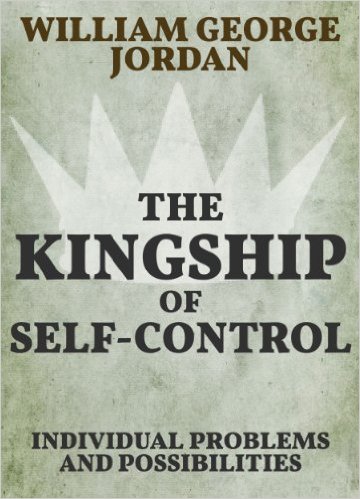 I am a student of personal and professional development. And I know that many who are reading these words are too, or you would be reading something else, or nothing at all.
As a student of anything, people tend to seek out the classics in that area; for personal and professional development, the list would be long. If you are young, you might think The Seven Habits of Highly Effective People. If you are older it might be the works of Og Mandino or Dr. Norman Vincent Peale. If you have been around even longer, or done your homework, you might think of Dale Carnegie. And if you go back further yet you might recognize the name of the founder of Success Magazine, Orison Swett Marden.
It will take a serious student to find the works of William George Jordan, a turn of the 20th century contemporary of Marden.
Originally published in 1898, The Kingship of Self-Control is a forefather of many of the personal development books that followed, and for that reason alone it is worth reading. But far more importantly, the development of self-control is critical to us reaching our full potential, and this 64 pages provides the most original thinking on the subject I have ever read.
The book reads like it was written over 100 years ago, and so it might include some language that is hard to follow and examples that seem outdated. I can assure you that just because there isn't an app or a reference to current events, it is 100% applicable to your life and your personal and professional development. The essays that make up the chapters talk about topics including:
Our choices in conversation
The role duty plays in our life
"Worry, the Great American Disease"
The value of simplicity
Thoughts on regret
And more.
64 pages.
And if you have a Kindle or a Kindle app for your device, it's just $.99
This is an absolute no-brainer.
I am adding this book to my read-each-year list.