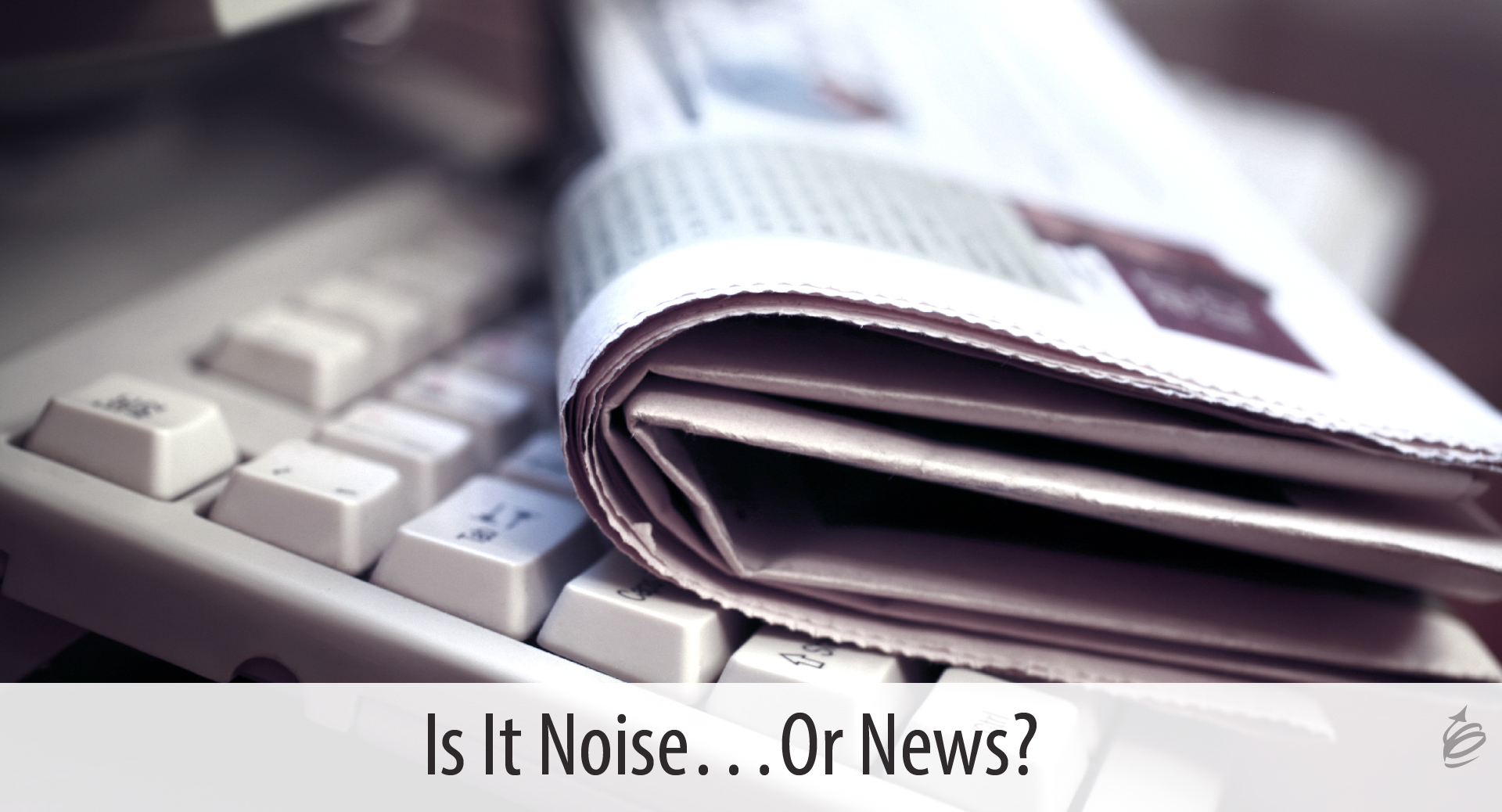 We have more information available to us than ever, both personally and professionally. Colleges and universities offer degrees in data science and analytics that didn't exist 15 years ago. Success in the short term and long term will be influenced by our ability to assess informational value. We must learn now to look at information in an analytical way to help us make better decisions. That sounds both important and hard because it is. But let's reframe it to help us get a better start and build some confidence and skills. To do so effectively, let's learn how to first decide if the information is noise or news.
What is Noise?
Some forms of noise are easy to identify – the whirling of the jet engines on takeoff, the deep bass beat coming from the car in the next lane at the stoplight, screaming baby in the grocery store. Yet if you have been parked at the gate waiting for a long time, that noise is a good sign, if you love the song coming from the car it will make you smile and if that baby is yours, the crying is something you must pay attention to.  In other words, whether it is noise or something more useful, depends on our situation, interests, and goals.
And while noise is normally thought of as auditory, for our purposes I want you to think about much of the information around you as noise. In the informational realm as well as the auditory one, noise distracts us and clutters our mind.
You can turn off or remove yourself from some auditory noise, and we need to do the same with some forms of information. Are you consuming, thinking about or studying things that serve you – your situation, interests and goals?  If not, for you, it is noise.
News isn't Just "The Press"
Most of think about "the news" as something we read, watch or listen to – or generally speaking "the press."  I'm not speaking here about sources of like newspapers, network or cable news – though how much time you spend with any of these could fall into the noise category for you.
Rather, think of news as being the pieces of types of information that inform your decisions, give you new or useful perspectives, or provide you trends and other directional guidance.  News, in this context then is something useful to you in understanding your situation, satisfying and informing your interests, and/or moving you towards your goals.
Sorting it Out
With my simple noise or news question, you can better assess informational value. Here are three things I urge you to do with what you have just read:
Take some time – right now – to make a quick list of sources of noise and news for you.
Think about how to send less (or no) time with the noise, to make more time for the news that will help you make better, more informed and more confident decisions.
If you are part of a team, talk about the noise/news distinction as you are making decisions, to help you bring more of the right kinds of input to your decisions.
Ultimately this is about deciding what to pay attention to. I hope you will consciously shift your informational sources – be it online, in print, audio, video or people, to get a better noise/news ratio in your life.
…
If you want to be a more effective and intentional leader, you need regular input and intentional learning. But you might not have time or ability to attend a traditional workshop. What if you could get targeted skill development from a trusted source, that you could complete at your own pace and based on your interest/need? That is exactly why we created Remarkable Master Classes. Learn more about the approach, format, and the list of currently available skills here.