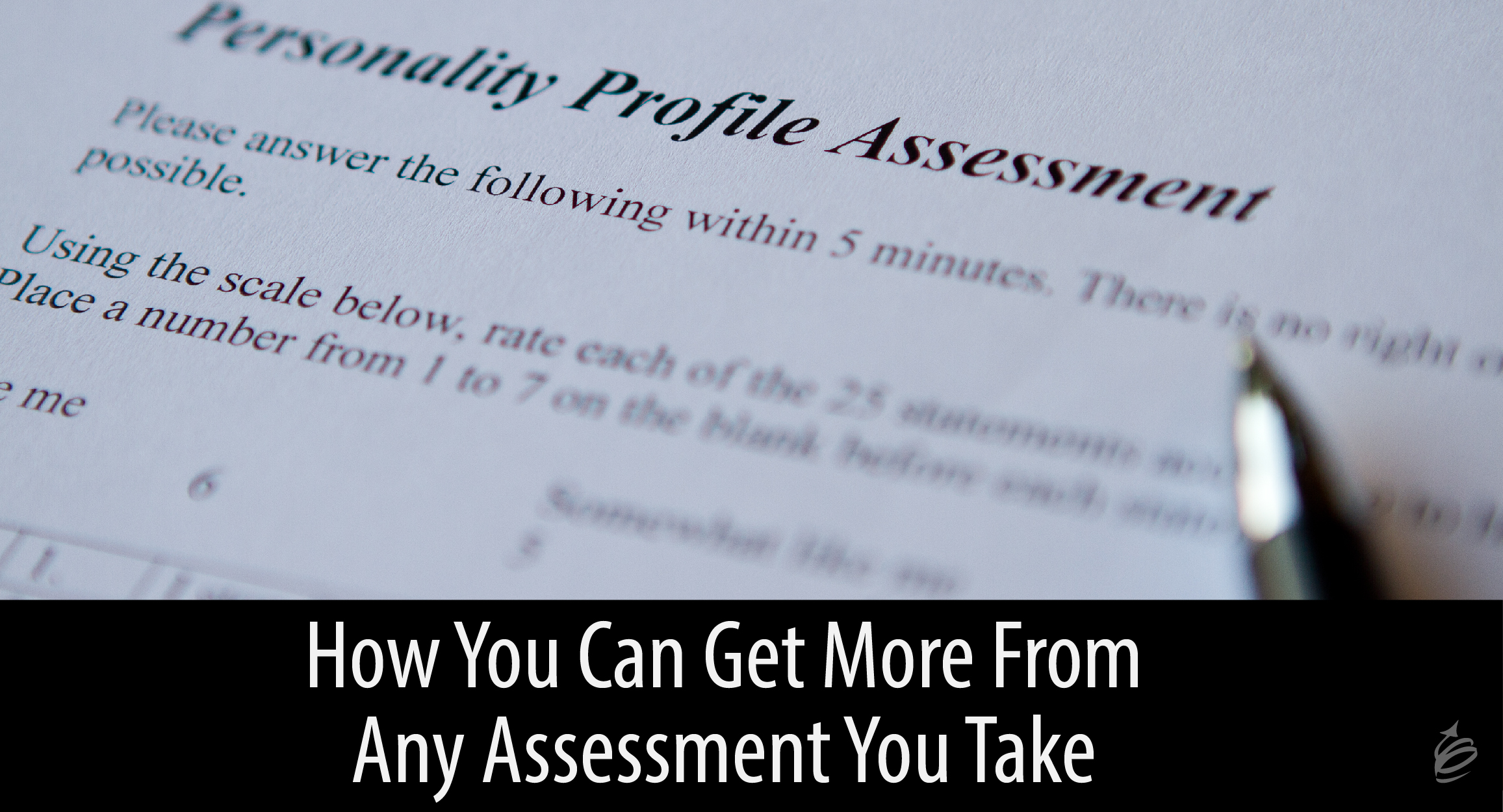 If you have taken one assessment of yourself, you've taken a dozen. Some might have been quick to take and free, while others have been far more involved, cost you or your organization quite a bit, and been far more accurate. In most of these cases though, we stop short of getting what we can from this exercise.
I've recently written about the idea that there is more to get from an assessment than self-awareness, and then talked about this opportunity from an organizational perspective. Today, I want to explore how you can personally get more far more from an assessment.
The Hidden Value
As I wrote in the article mentioned above, the hidden value in assessments comes in using the assessment model and framework to see the world and other people differently and broaden your understanding of both.
As an example, if you are over ten years old, you know that not everyone communicates in the same way. Once you have taken a communication or behavior style assessment, you now have a framework to understand those differences more completely.
That model or framework can provide you with insights to better understand the strengths and weaknesses of others, and how you can best understand their motives and interact with them.
In short, the hidden value in the assessment is the model it is based on and how it can help you far beyond understanding yourself. The value is hidden because the focus of the assessment is typically personal, not external. We can find that greater value though if we will gain the external perspective by taking a few additional steps for ourselves.
Capturing That Value
Strive to understand the model. Chances are when you took the assessment, you got a packet, booklet, or link to additional details. Most people read the information about themselves and then stop reading. If you want to get the greater value, read it all. Explore the details, read the examples of other styles or types, and you will be better equipped to use the model in your life.
Talk to others about their observations. This will likely happen, but you can direct the conversation to more than "that was interesting" kinds of conversations. Ask people what the results tell them, what they see in you, and generally use the conversation to deepen your understanding of the model and your perceptions of others.
Reflect on a situation. Take a situation at work or home, especially one that was challenging for you or a group. Then think about what the model from the assessment might tell you about:
Why it was challenging. Your assessment model might give you clues as to why people reacted or behaved in a certain way (especially if their response was surprising to you)
What could have changed it. Your assessment model might also give you clues as to how you or others could have thought about the challenge or interacted differently
Use the model rather than judge. It is hard not to judge the behavior of others when the only lens we have to view them through is our own. Having a model that helps describe or explain the differences between people gives us a fresh way to think about the behavior or others. This additional perspective can help us understand them better and judge them less.
Observe the world through the model's lens. Once you have his new model to consider, just look at the world through the lens of it. As you read a novel, think about the characters using the lens of the assessment. Do the same as you watch the news, television, or a movie. Doing this allows you to practice using the model to better understand others and yourself.
When you do these five things, you will gain far more than self-awareness from any assessment you take. While no model or assessment perfectly describes or explains human behavior, they can give you a great window through which to see things differently. That different perspective might make all the difference for you, your relationships and your results.
Final Thoughts
This advice applies to most any assessment I have encountered and is what we encourage our Clients to do when they implement our DISC assessment within their organizations. While there are many fine DISC assessments, when you work with us using ours, we strive to help you gain these additional benefits.
You can take a free assessment, or upgrade to the full assessment with the premium personal report for $29 (discounts are available on group purchases). Take a free assessment here and contact us if you want to talk about how we can help you get these additional benefits from your assessments.