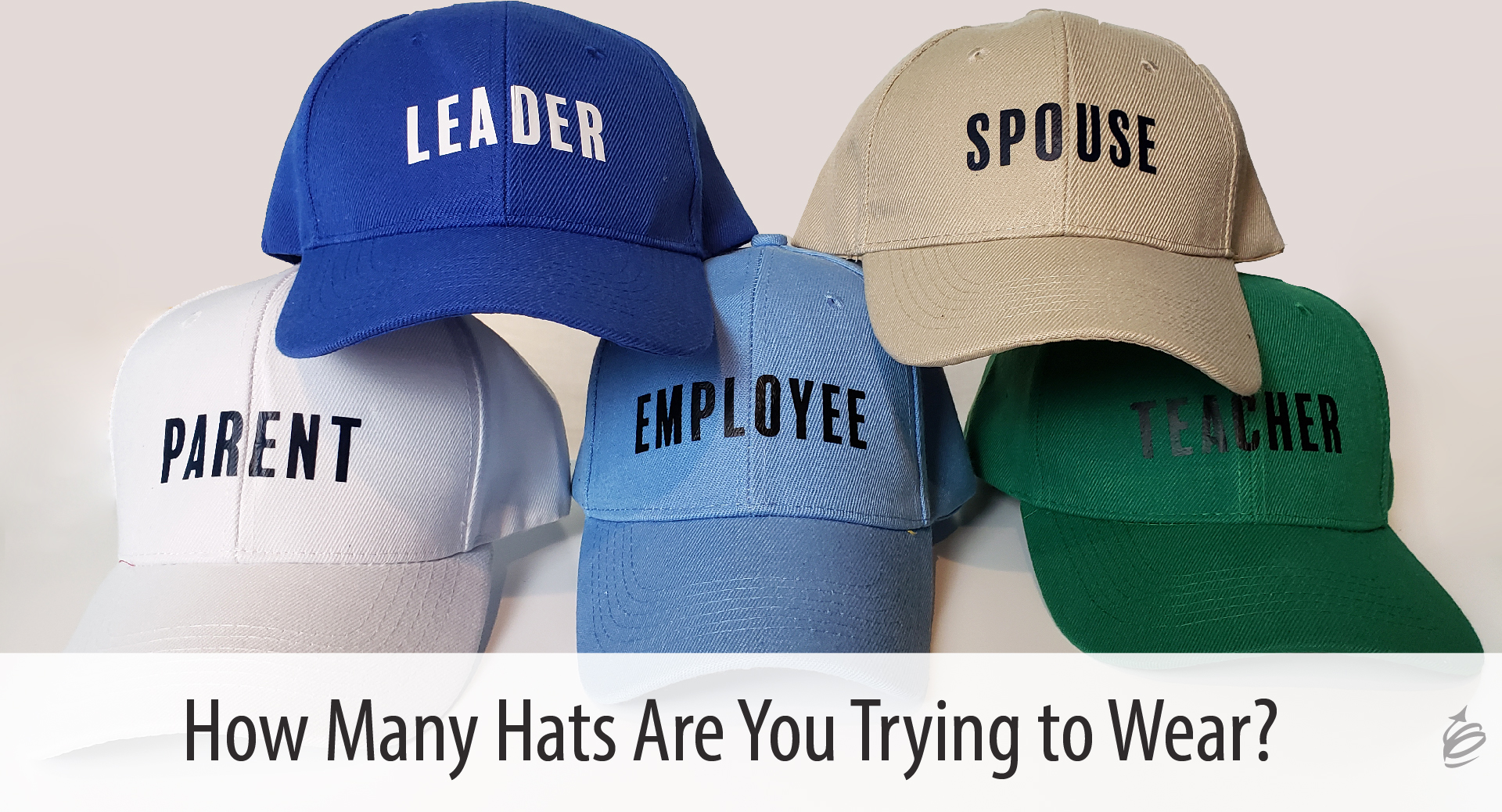 All of us wear many hats. We are friend, neighbor, sibling, and mentor. And we are also parent, employee, leader, spouse, and in many cases now, a teacher.  Managing multiple roles has been part of your life, but now it is a different ballgame. Regardless of how many of these hats are you wearing, chances are now it is harder and more important to wear them well. And trying to keep only one on at a time feels almost impossible.
The Hats You are Wearing
I don't know exactly how many hats you have to wear now. But I'm guessing that during this Shutdown the expectations that you have for yourself (or others have for you) has changed. Since everyone's situation is different, I can't give you a definitive description or perfectly applicable advice.  But I can list the roles you might have -the hats you are wearing that have changed in the last few weeks.
Parent. If your kids live with you, you are spending more time than ever together.  If your kids are grown and gone, you might be missing them in ways you hadn't imagined.
Team member. If you are working from home, there is a lot that has changed, isn't there?  If you are working onsite, like you always have, it's different, with different stressors, different dynamics, and maybe different hours. And if you have been furloughed or laid-off, you probably yearn for the chance to put on your team member hat again.
Leader. If you are the leader of a team, you are leading in situations with pressures and challenges than you have faced before. If you can't adjust, you and your team will suffer.
Teacher. Perhaps you are taking on the role of teaching your children, helping them in ways you might not even feel equipped to do.
Spouse. Like with your kids, you might be spending more time than you can remember with them. While that may be wonderful, it is certainly different.  And remember that your spouse is dealing with all these changes too.
I could list more hats or roles, and for each one it would further my point that managing multiple roles has likely never more challenging than now.
Wearing Them Well
Managing multiple roles is always hard. In times of uncertainty and change, it gets harder. How do you manage these dynamics and the changing needs people have now?
By setting revised expectations.
I've written at length about the power of clear expectations (examples?  here and here), and while we often think about those in the workplace we don't always think about them in the others areas of our lives.
Whether you call them expectations, boundaries, or agreements they are a part of all relationships, even if implied.  To serve others in your life well– especially in times of change – you need to talk about them and make them explicit and agreed to. Perhaps that will be hard with a toddler, but in all the other roles, time spent agreeing on how you are going to succeed together will be time well spent.
The Hat You Might Be Forgetting
While you might not be wearing all the hats I just mentioned, there is an important one I left out that you certainly wear. Don't forget your personal hat.
Are you taking care of yourself?
Are you eating right, getting sleep and exercise?
Are you doing things that will help you be mentally and emotionally healthy too?
If not, remember this: you can't serve others well unless you take care of yourself.
One at a Time
Hats can be a lovely fashion statement, but they are worn one at a time. Perhaps now more than ever you are trying to wear multiple hats at once. If you are doing it, you know that it probably isn't working. As much as possible (and this is where your expectations conversations can come into play), wear one hat at a time.  Yes, you may have to change hats frequently. But when you think about changing roles (hats) consciously you will be instantly more effective, whichever hat you are wearing.
One Final Thought
Everyone you are interacting with now, at work or otherwise is dealing with their own complicated role changes. For some, the changes might be small, of others they may seem insurmountable. If you are leading or interacting with others (even those in your own house) recognize that what they are experiencing is probably different than what you are.
Never has empathy been more important for us if we want to build relationships, trust and connection with others.  Hopefully this article gives you both food for thought and actions you can take so you can manage multiple roles a bit more confidently and comfortably now.
….
While you have worn multiple hats for a long time, the way you wear them, and when you need to wear them may look different now.  when we consider the future of work, we may wonder how, when and where we will switch hats in the future.  That is just one of the challenges we all face as we look at the future of work.  That is why we have created The Future of Work Newsletter.  When you claim your free subscription you will have access to our best thinking, latest tools and techniques and be best equipped to succeed in the future – whichever hat you are wearing.