By Adam Galinsky and Maurice Schweitzer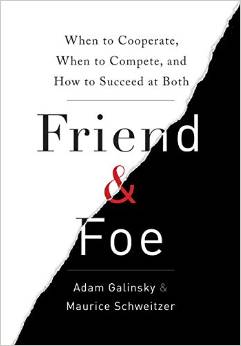 This is a brand new book with an intriguing title from two accomplished professors at highly respected institutions.
The title and recency might be leaning you in favor of purchasing this book. The third fact might not.
If you are worried that this book is stuffy or academic, fear not. Rather, the depth of knowledge of these authors and the expert use of both their research and the research of others makes this book interesting, readable and valuable.
While the book has just been released, I was sent, and read, an uncorrected proof, sent by the PR firm. Since I receive many of these, I seldom even read the enclosed cover letter, because, well, I'd rather read the book than read what a publicist has to say. This time, however, the cover letter does a great job of describing this book:
"[the authors] unpack the psychology of when and how to interact with people as our friends and foes, and how we can use this knowledge to get the best outcomes in life. Insights from this work help us in business (how to build trust, gain power, nail a job interview, and negotiate a raise) and in our personal lives (how to increase our motivation and our happiness, how to deal with deception, how to know what your best friend really wants, and how to deliver an effective apology."
I like this book for the reasons I've already mentioned – it is readable and filled with interesting research to confirm the points being made. I also like it because it is practical, and really delivers on the promises of the publicist above!
The opening chapter sets the stage and context for the book, but beyond that, the chapters stand largely alone. While the book doesn't offer an overriding framework or model, the ability to read the chapters almost as stand-alone treatises on their topics is actually a positive for me.
While every reader will have their own lessons to learn and interests raised by the book, to me the chapters on trust building and repairing are worth the full book on their own.
I believe this will be one of the most referenced books of the year; which is just one more reason to be on the front of the curve, get your copy now, and start reading!