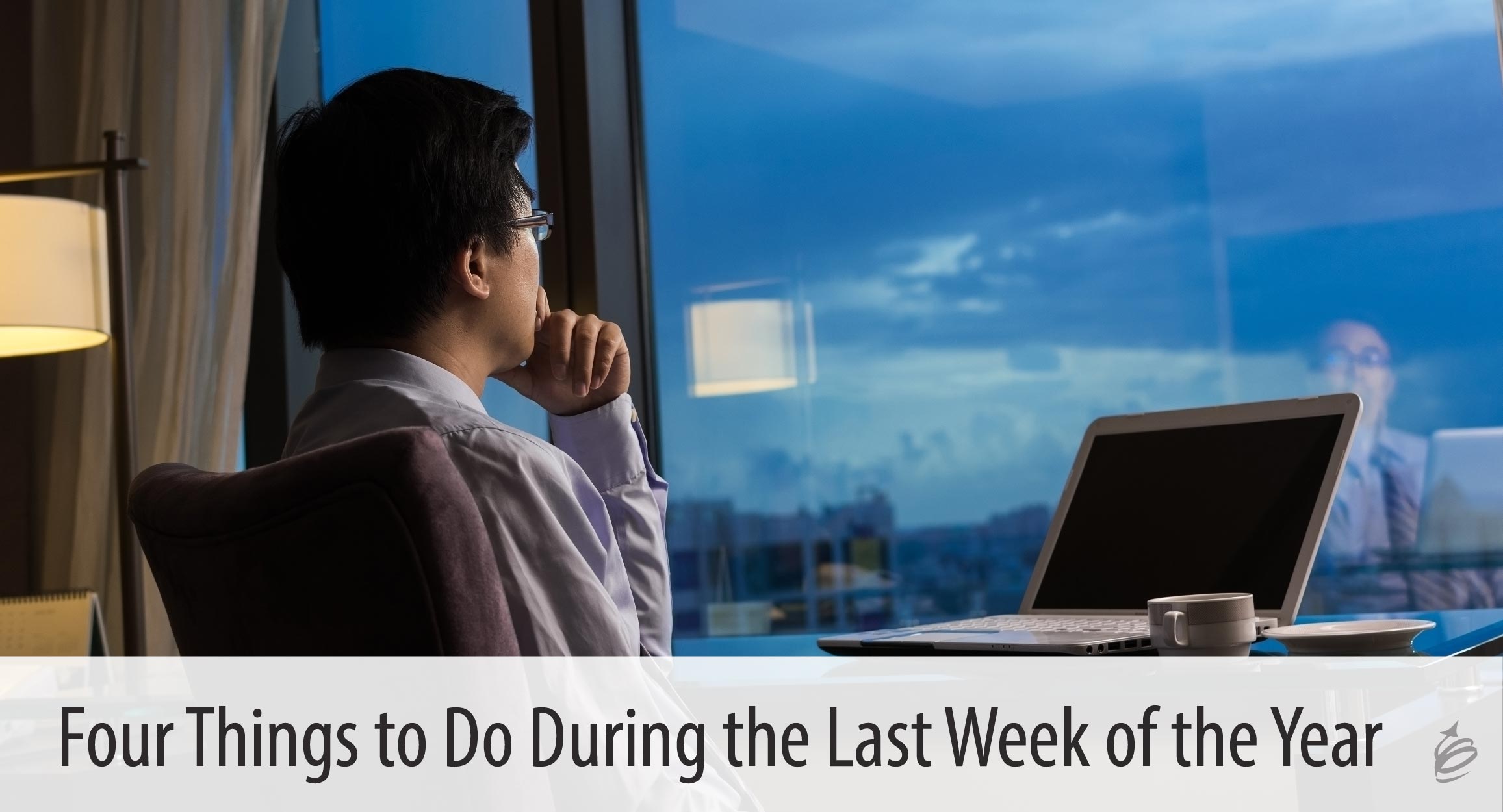 I have often called the last week of the year the Magic Week; if you are working then, you can get more done than in three normal weeks because there will be fewer distractions from others. Working or not, this week between Christmas and New Year's Day can be magical if you use it wisely.
Along with being productive or taking a needed break, I recommend the following four activities that when taken together, will help you learn from and get closure on the past year while setting yourself up for success in the coming year. Here are those four activities.
1. Reflect on Your Year – Capture the Lessons
Reflect on the last twelve months and look for lessons and insights about yourself and what works. You can do the reflection however you wish, just make sure you capture the lessons; what you want to repeat or do differently as well as what you want to avoid in the future. If you need some help, these questions might help.
What am I most proud of in the last year?
What was my biggest success?
What is my biggest mistake?
What made me the saddest? Why?
What do I want to repeat?
What do I want to avoid in the future?
What habits helped me most last year?
What habits drained my energy or reduced my productivity?
What helped me grow the most?
2. Celebrate Your Wins – Do Something Memorable
While there may be losses, setbacks and frustrations from the past year, chances are you have had some successes. And chances are you haven't celebrated or recognized them very well. Even if there have been challenges in the last year, you are still here and still standing! Do something in the last few days of the year to celebrate your successes and lessons learned.
How you celebrate is up to you – whether with a special food treat, a time with a special person or doing something else memorable. How you celebrate is less important than that you celebrate – and that you consciously connect the celebration to your wins.
3. Share Your Gratitude – Thank Those Who Helped You
No one achieves anything alone. Who helped you, supported you, and encouraged you? Who gave you ideas, insights and coaching? And when things were tough, who helped you get through those challenges?
Make the list of people you are grateful for, then let them know before the end of the year. Send a note, make a call, send an email or take them to dinner – do something to let them know how much you appreciate them and what they have done for you.
4. Make New Plans – Create Your Future Now
Where do you want to go and what do you want to accomplish in the next twelve months? If you aren't clear on it now, the chances of you getting there are very slim. Whether you are typically a goal setter or not, determine the destination you want this year, then spend time this week building your plans for getting there.
Much has been written about how to do it; and chances are you know enough to get started. Now is the time to make those plans so you can make your desired future happen.
These four things can be done separately; if you do any of them, you will be glad you did, but when done together, in this order, they can make a bigger difference for you now and throughout the coming year.
These are written as individual activities and likely will be done this way. You can do them considering your whole life, or do them separately for your personal and professional life. They can also be done as a team – use these four tasks as the basis for a team meeting during this week or early in the New Year to generate great learning, energy and momentum.
In this magic week, do something that will make a difference in your life. These activities can make this special week more magical, memorable and meaningful.